Quality acoustic furniture: efficient, flexible and eco-responsible
Soundproofing and making your offices more flexible
According to an Ifop survey, 6 out of 10 employees consider themselves bothered by noise pollution in the office. Indeed , the decompartmentalization of the work platforms has encouraged exchanges and interaction between the teams. But those conversations in the open spaces increased the loudness. A source of stress and fatigue, noise has become the number one nuisance in workspaces. So to fight against noise pollution, companies must improve the acoustic correction of their workspaces and their collective spaces by adopting acoustic furniture.
What is >acoustic furniture?
The term "acoustic furniture" refers to a set of sound-absorbing products. It can be products for acoustic treatment as well as for sound insulation.
As a reminder, sound insulation allows you to isolate yourself from noise. Conversely, the acoustic treatment reduces the effect of hubbub in a room. The objective of acoustic furniture is not to eliminate all noise in the workplace to the point of imposing a dead silence, but rather to eliminate excess noise propagating in the atmosphere and to promote quiet in business.
Acoustic furniture is widely used in open workspaces and includes a multitude of solutions such as:
• Acoustic partitions,
• Acoustic armchairs,
• Acoustic cabins ,
• Acoustic curtains,
• Acoustic totems,
• Acoustic lights.
These different products eliminate, at their level, noise and prevent it from spreading in the different rooms of a professional office.
Download the product guide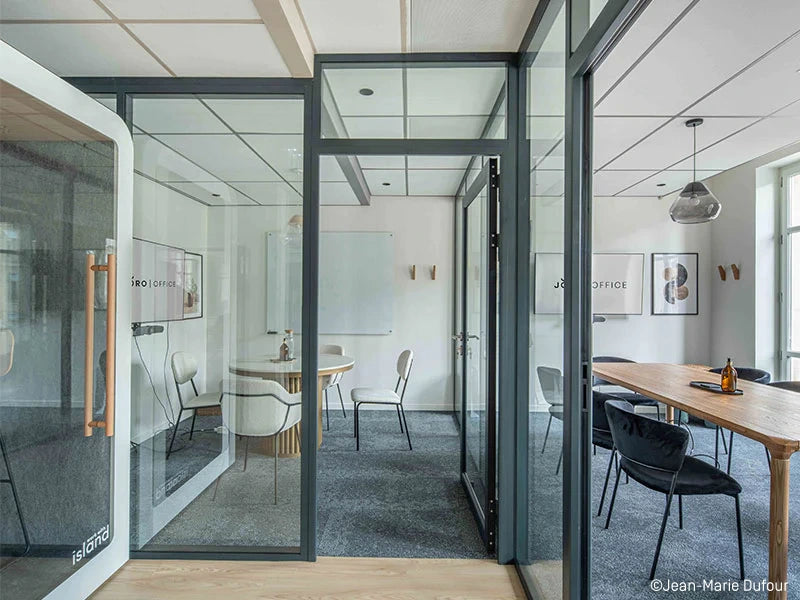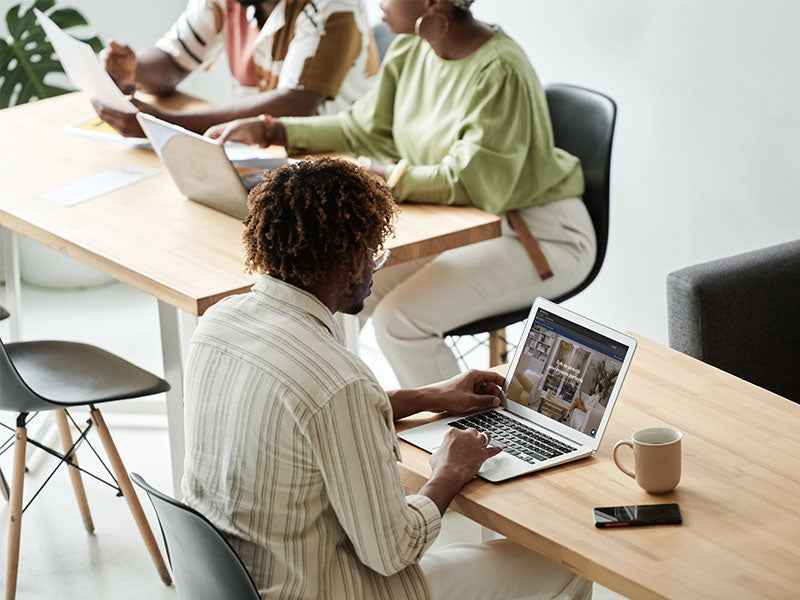 Why install acoustic furniture
in your workspace?
Open space, flex office or even coworking: in office layout, fashions follow and resemble each other. Say goodbye to the individual office, the watchword is now to open everything and share everything, but at what price?
Indeed, the partitions are knocked down, the spaces shrink as much as the quality of life of your employees because these configurations can be sources of noise pollution and disturb the concentration and well-being of your teams .
According to an American study by Gloria Mark, an employee in an open space is interrupted on average every 11 minutes. He will then need 25 minutes to concentrate on his task again! This is why the acoustic comfort in your offices is the first stake in the performance of the employees, the productivity and consequently the success of your company.
What are the advantages of acoustic furniture?
Acoustic furniture is increasingly being used in companies because it appears today as a solution to the new challenges brought about by changes in the world of work. And beyond comfort, acoustic furniture has many benefits for your office.
Acoustic furniture for more comfort
Acoustic comfort is one of the aspects that has the greatest influence on the health and well-being of workers. Exposure to excessive noise levels has been shown to have a direct link to health problems such as sleep disturbances, hypertension and cardiovascular disease. In this context, the management of acoustic comfort is a major element in improving the well-being of your employees in the company. Indeed, by working in an environment where calm and tranquility reign, they will have the concentration and motivation necessary to give 100% in their work and their health will not be impacted. It is in this sense that the acoustic furniture actively participates in making the open space a pleasant workspace adapted to communication and exchange. It thus offers a better environment of concentration and acts directly on the performance of the employee.
Acoustic furniture for optimal soundproofing in offices
Professional secrecy, personal call or meeting with a client, there are many reasons why you want a little privacy at work. Unfortunately, the number of meeting rooms in an office is limited and it is not always easy to find a place to isolate yourself in open spaces. By opting for designer acoustic furniture, the noises that pass through the various offices are absorbed. Each employee and each worker therefore keeps his privacy to better focus on his mission.
The acoustic furniture is design and customizable
In order to combine business with pleasure, the design of most acoustic furniture is sophisticated and makes the atmosphere of your offices more serene and warm. The shapes as well as the different materials used to make this furniture are of an irreproachable quality in terms of transforming a sober space into a reassuring and warm office. Also, there are a multitude of colors to meet all expectations and create a unique atmosphere. In addition, depending on the type of furniture, you will have options for accessorizing: screen, camera, tablet...
The different types of acoustic furniture
There are different types of acoustic furniture on the market to create micro-environments in your premises. Each acoustic furniture meets a different need that you will have to choose according to your layout needs. Here are a few.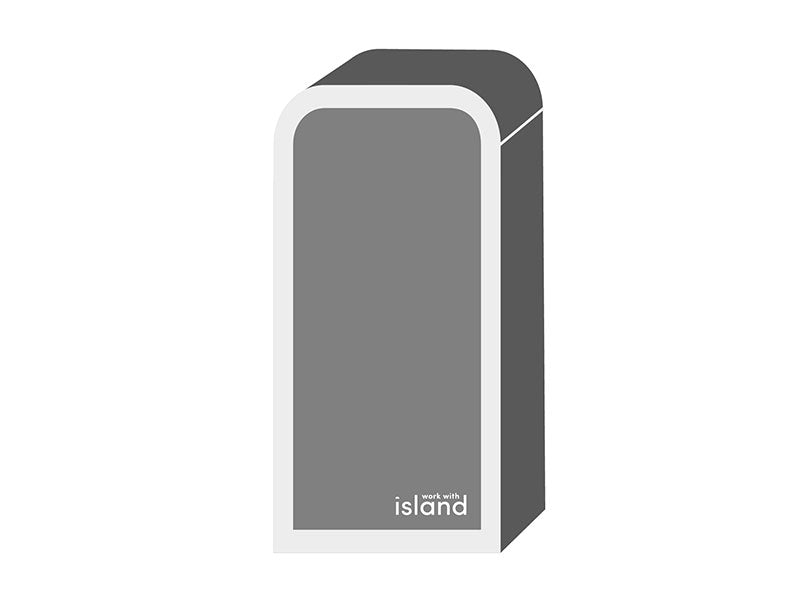 The acoustic cabin
Unlike the other two products, the soundproof cabin is an enclosed space whose main characteristic is to prevent exterior noise from spreading to the interior. Alone, in pairs or in fours, the office acoustic cabin is designed according to the type of activity: working alone on your computer, having a team meeting or even making a call in complete privacy. Their size will therefore vary depending on the use you want to make of them.

Beyond its acoustic comfort, the acoustic cabin is the ideal solution in a flexible workspace where employee needs and spatial parameters are constantly changing. The acoustic cabin is then presented as a modular, scalable solution at a lower cost in terms of building.
The acoustic partition wall
The partition wall has a triple role. It makes it possible to organize intimate spaces between employees. It is also decorative and acoustic since the partition makes it possible to capture noise and absorb it.
Moreover, French regulations require partition walls to have a sound insulation level of at least 53 decibels (dB).

Also, the acoustic partition can have legs on wheels to handle and move it easily. These accessories enhance the mobility and instantaneous use of these mobile panels.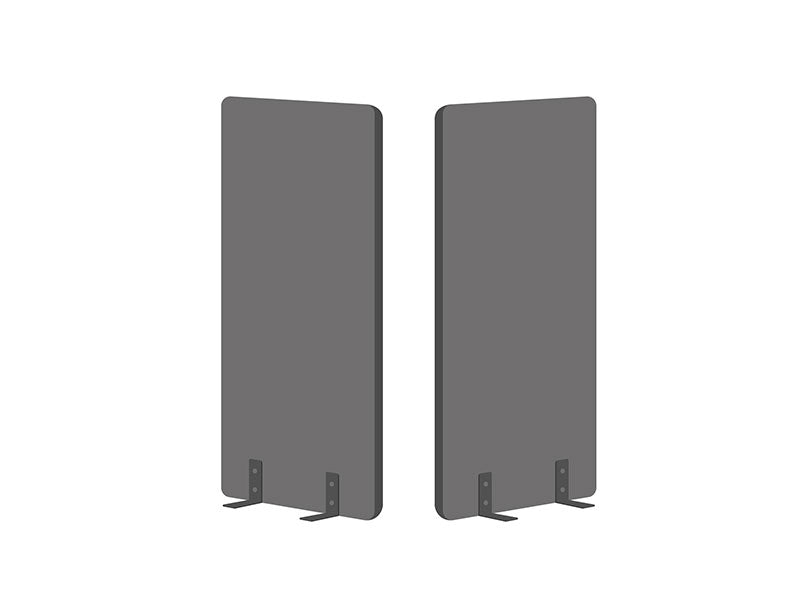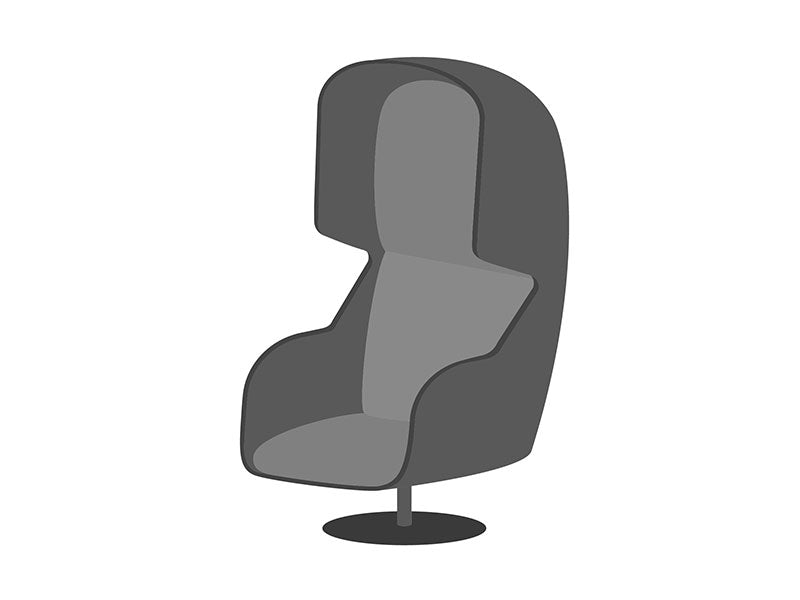 The acoustic chair
Acoustic office sofas and armchairs allow your employees or visitors to benefit from a comfortable space to wait, work or chat.
And unlike a classic armchair, this one prevents environmental noise from affecting your peace of mind. This range of office furniture, with its generous dimensions and numerous accessories, is an invitation to relax inside your offices.
As you will have understood, the effects of noise at work are numerous and affect both the motivation and the well-being of employees. This is why it is important to fight against noise pollution and to offer a quiet working environment thanks to acoustic furniture (partition, panel, armchair, cabin, etc.). All you have to do is choose from this range of furniture the one that best suits your needs in your open space.

Get a quote
Which acoustic furniture to choose for total soundproofing?
Acoustic furniture actively participates in making the open space a pleasant workspace suitable for exchange. But which solution to choose for perfect privacy?
If the partition or the acoustic panel are very popular with companies, it is because they are financially affordable. However, the performance in terms of sound insulation of a partition or a panel will be less important since it is only a wall and not a closed and hermetic space. They therefore offer limited privacy for your phone calls or meetings while the cabins offer a confidential space while protecting you from outside noise.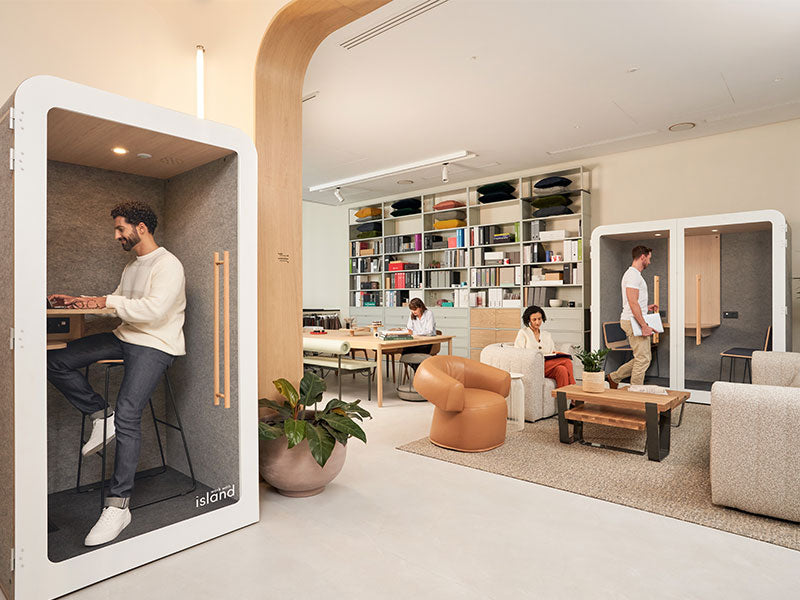 Also, partitioning part of your space will transform your open space into a classic office. While the cabins allow you to keep your configuration while eliminating the inconvenience associated with this type of office layout. In the long term, cabins are also a better investment. Removable and reassemblable, they can follow you during your moves. While the partitions, once installed, are an integral part of the offices.
Even if the acoustic cabin seems to be a better choice in the long term, it is advisable to test them before buying them. Indeed, there are a plethora of cabins on the market but not all are equal. We advise you to go and test them in a showroom, this will allow you to check the acoustics and ergonomics.