At a time when responsiveness is a key success factor, many companies are looking for both technical and organizational devices to help them improve the design of their products. Because modular design allows a complete product to be manufactured by integrating or combining smaller modules that are independent of each other but work together as a seamless whole, it can reduce manufacturing complexity, time, and costs well. that it also implies a heavier logistics chain. Offering many benefits, this design and production strategy was quickly adopted in industries such as automotive and IT. From an organizational point of view, the modularity of products tends to promote the modularity of the organization that designs and manufactures these products. This organizational modularity implies a particular structure in terms of coordination and division of labor (Ron Sanchez and Joseph Mahoney, Strategic Management Journal, 1996).
Today, the pandemic has renewed companies' interest in modular design for the design of their workspaces. The flexibility offered by a modular workspace has in fact become in recent years a strategic asset for companies that have to deal with changing health rules and the growing popularity of flex office and remote work.
Many companies therefore find themselves having to review the configuration of their offices and create workspaces that are flexible and adaptable according to needs. The office is now an ubi-office as Robert Acouri, founder of the Cider group, points out, that is to say an office that is not fixed but very dynamic. This wave of modularity is embodied through choices of space organization and furniture that favor the movement of people and objects. Taken to the extreme, the modular office is ultimately nothing more than a constantly evolving prototype that needs to be refined and reconfigured as experiments, constraints and uses progress. Has modularity become the new paradigm for designing workspaces?
The evolution of modular design from the "Frankfurt kitchen" to the Action Office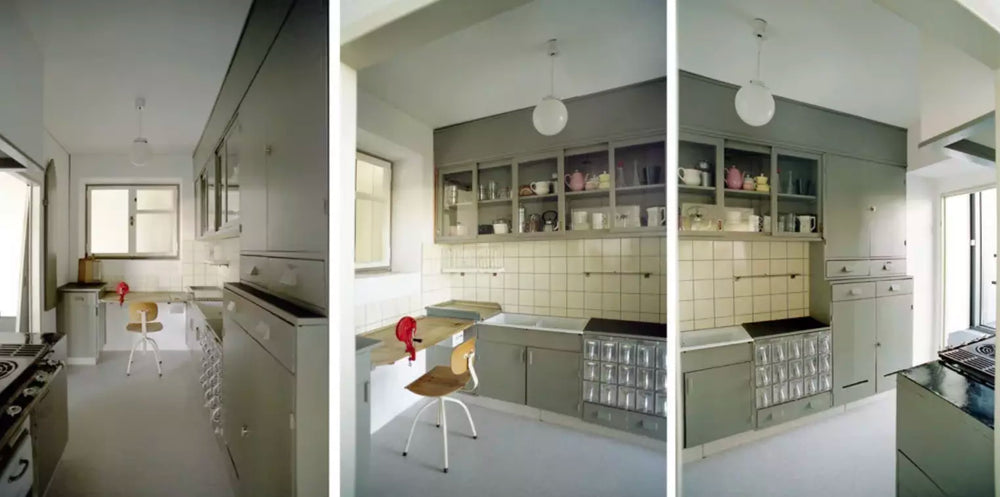 Three views of the reconstructed Frankfurt kitchen as designed by architect Margarete (Grete) Schütte-Lihotzky.
Photo credit: MoMa
The craze for creating modular spaces is not new. Modular design was born in the post-war world and then spread to workspaces in the decades that followed. It first spread through a wave of prefabs that came to meet an urgent need for housing in the countries affected by the Second World War. They must quickly rebuild homes as they are affected by a shortage of steel and labor has become scarce and expensive. Signed under Winston Churchill, then Prime Minister of Great Britain, the Housing (Temporary Accommodation) Act of 1944 thus plans to deliver 300,000 units in 10 years - in reality, only 156,623 prefabricated units will be designed, produced and erected between 1946 and 1989 in all the United Kingdom.
This wave of prefabs and the concept of modularity that accompanies it are directly influenced by the "Frankfurt kitchen" invented by Margarete Schütte-Lihotzky in interwar Germany. This small kitchen, measuring just 1.9m x 3.4m, is inspired by the compact kitchens of modern luxury railway carriages and is designed and streamlined like a factory. Drawing on contemporary theories linking efficiency, hygiene and workflow, Schütte-Lihotzky conducted detailed time and motion studies as well as interviews with housewives to come up with the design. Nothing is left to chance and everything is designed to reduce the time spent in the kitchen. Schütte-Lihotzky thus invents the first mass-produced fitted kitchen with its swiveling stool, gas cooker, built-in storage, folding ironing board, adjustable ceiling light and removable waste drawer.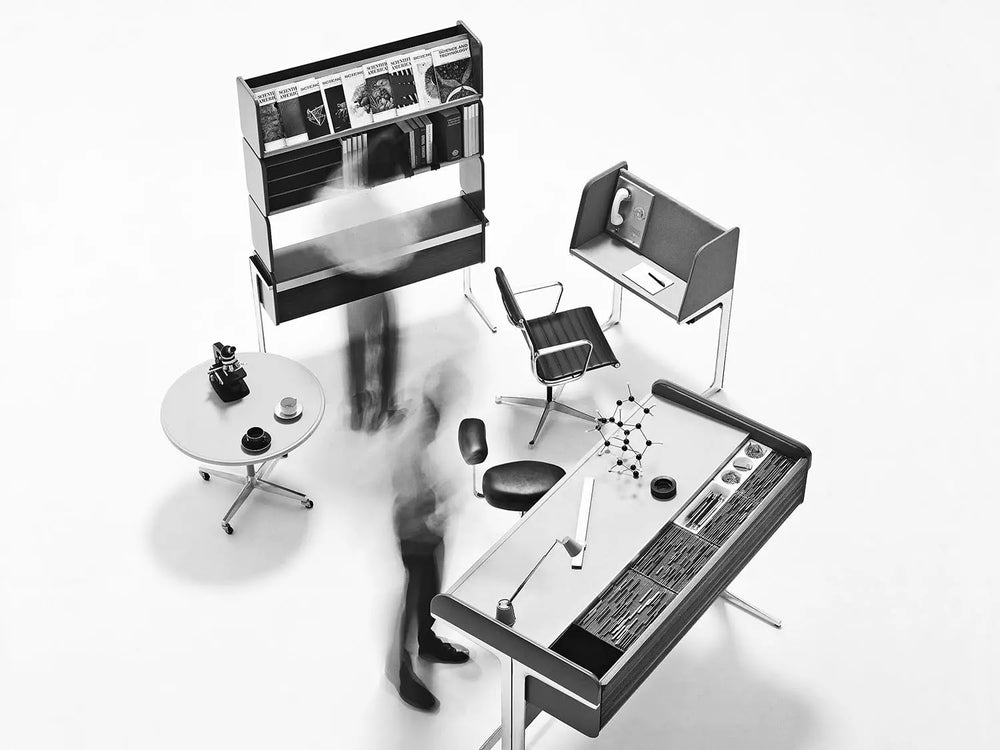 Promotional photo of the Action Office I at its inception in 1964.
Photo credit: Herman Miller
The popularity of prefabs eventually waned a few decades after the end of World War II as housing supply and demand finally balanced out. The end of prefabricated buildings does not sign the death warrant of modular design, however, since it ends up settling in offices in a new form: the cubicle .
Before being synonymous with rigidity, the cubicle indeed referred to a new way of designing offices whose objective was to free up employees and offer them a better working environment. The year 1964 officially marks the beginning of the Action Office , which designates both a new philosophy and a series of products designed by Herman Miller's furniture company. The goal? Leave more room for movement. Robert Propst, who designed the first Action Office I series, was among the first designers to champion the idea that office work was primarily mental work and that the quality of mental effort was intimately linked to environmental improvement. of his physical abilities. Thus, rather than a piece of furniture or a collection of furniture, the Action Office offers a whole new type of space with a desk, a piece of furniture made up of shelves and a seat.
The first series of Action Office I furniture, however, met with mixed success, in particular because of the high price caused by Propst's choice of refined and expensive materials. The designer signs a second collection three years later, in 1967, which sees significant improvements: the space is smaller, the interlocking walls are mobile, lighter and made from reusable materials, and the storage spaces are raised above the ground. Comprised of three movable, obtuse-angled walls, the Action Office II allows employees to arrange the elements around it to create the workspace they want.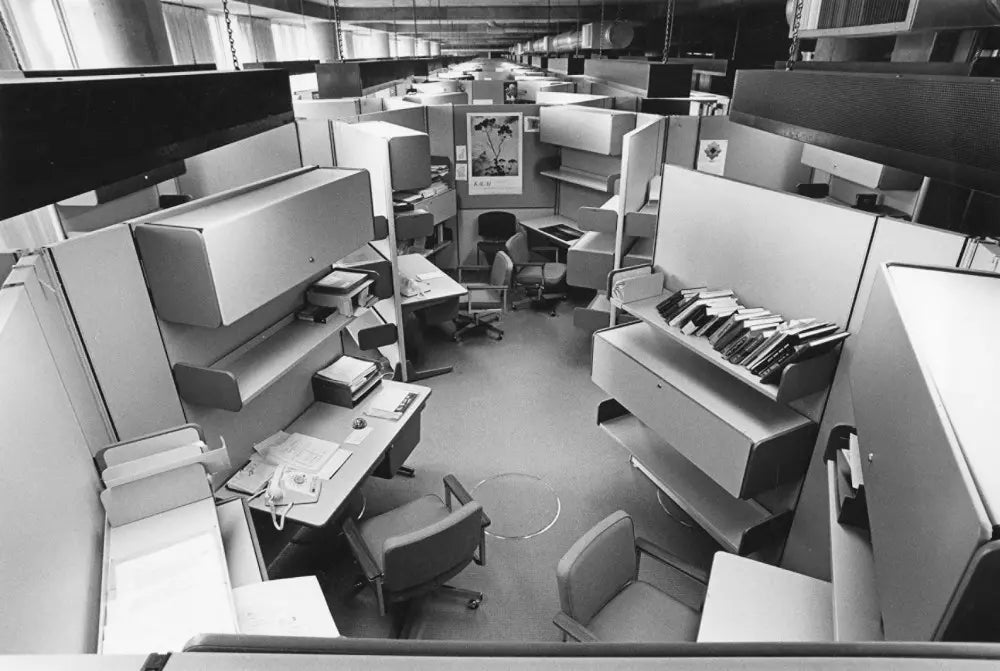 Installation of the Action Office II circa 1969.
Photo credit: Public Policy Research Organization University of California, Irvine
The success of this new model of Action Office II across the United States is giving rise to a plethora of copycats who are gradually moving away from the original philosophy of Herman Miller and Robert Propst, namely to free the body and promote movement of office workers. Very quickly, cubicle farms end up invading the offices of American companies, compartmentalising the space and thereby rigidifying it.
The modular office to meet the shortcomings of open space
The arrival of the Internet in the 1990s and then the financial crisis of 2008 finally put modularity back at the heart of workspace design. These are now organized in the form of large open spaces, that is to say dedicated workstations in an open plan, after a vast decompartmentalization movement put an end to " cubicle farms".
However, the open space poses many problems. The designers of Orangebox, an office furniture company founded in 2002 in the United Kingdom, published their report "Office Wars and the Corridor Warrior" in 2003 in which they explained that the office workers they studied were regularly in search for alternative workplaces. Indeed, an office offering only open spaces does not meet the need of employees to balance collaboration with several people and individual concentration: "We have seen people resolve to take phone calls in the corridors. The rise of teamwork was also forcing people to use their office as a spontaneous meeting area as they spent more and more time collaborating informally."
Orangebox therefore seeks to become one of the pioneers in understanding the "away from the office" movement and in recognizing the importance of offering employees alternative spaces that offer both an informal atmosphere but also a framework conducive to accomplishment of work. Orangebox's designers are particularly influenced by the notion of "third place" developed by urban sociologist Ray Oldenburg when he observed in the 1980s the extension of American cities through suburban housing. If the home is the first place of sociability, the work the second, the third place is where we meet other people and where social ties are created. This concept of third place, this neutral place, accessible to all regardless of their place in society, reflects the social function of a certain number of spaces, including cafés and libraries. Built as a series of peripheral housing estates, the American suburbs find themselves devoid of these third places of sociability, which reinforces social segregation and endogamy: deprived of sufficient and diverse public spaces, individuals are forced to remain in their and no longer mix.
Orangebox designers then reflect on how to transpose this notion of third place to the workplace and design work environments that allow employees to feel good and be productive. The company has therefore set out to create mobile, flexible and modular furniture, capable of meeting the needs of employees for these third spaces, whether they be break rooms, meeting rooms, cafés, lounges, receptions or the entrance halls. A few years later, in 2008, the company launched its acoustic cabins to meet a dual need: the need for physical and acoustic privacy in the middle of an open space and the need for flexibility, scalability and adaptability. These pods, or Privacy On Demand , are an alternative to meeting rooms that involve the erection of walls and therefore a rigid division of space.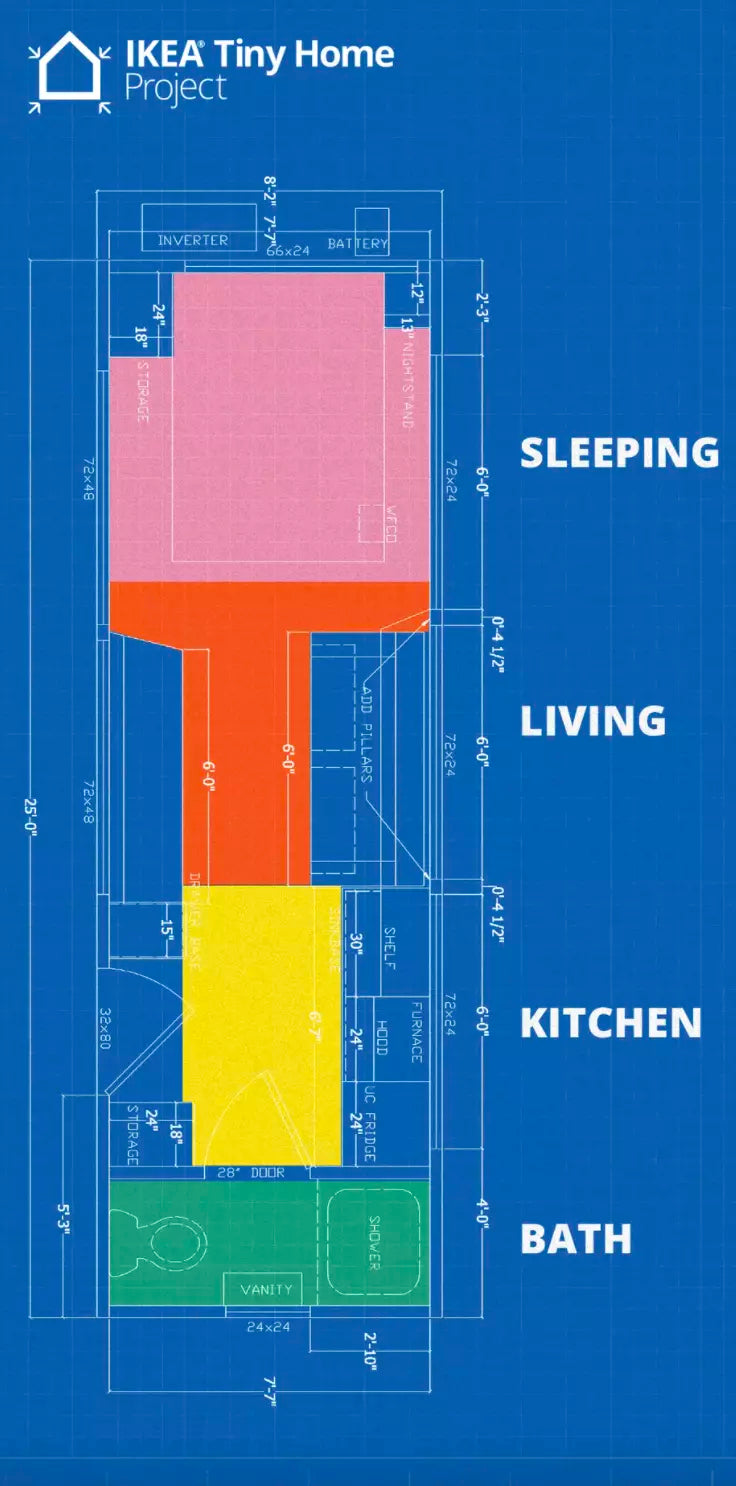 IKEA's Tiny Home floor plan.
Photo credit: IKEA
Modularity has now become a way of life
Today, population density records in major cities require the design of modular furniture: clever and multi-purpose, it meets the constraints of small spaces that have become the norm. Modular furniture is therefore experiencing a new craze which makes it a real popular and sought-after "lifestyle". The "IKEA generations", accustomed to receiving standardized furniture, mostly designed in wood and plastic and which you have to build yourself, are de facto familiar with modular design.
In the spirit of the "Frankfurt kitchen", IKEA designers imagine and design furniture and even entire spaces capable of adapting to different uses. It is therefore logical that the Swedish company is launching its economic-responsible tiny house in partnership with the company Escape Traveler in 2020. Its 17 m2 mini-house, which costs between €50,000 and €60,000, offers all the comfort necessary with its bathroom, kitchen, living room and bedroom area. Anxious to prove that its design is suitable for everyday life, the company even recently offered to rent an apartment in Tokyo of barely 10 m² for less than 1€ per month as part of its program Tiny Homes. A few years before, it was MUJI that would become the MUJI Hut, a small 9 m2 house that could accommodate up to four people and was only available for sale in Japan.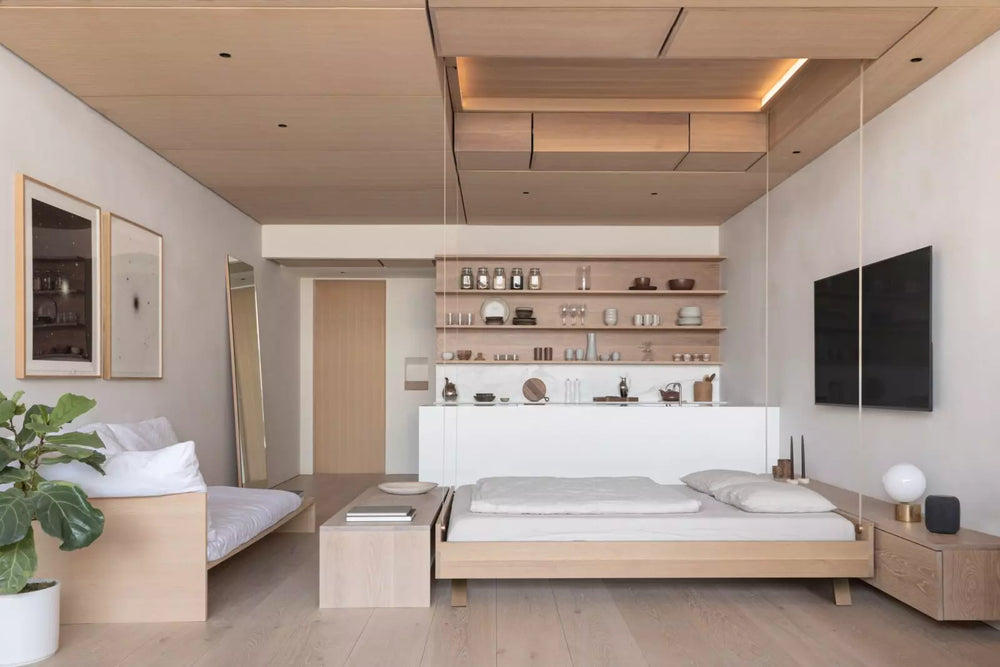 Photo credit: Bumblebee
The Bumblebee bed is designed to hide in the ceiling to save space.
Technological innovation has also enabled new feats in modular design. The Californian company Bumblebee has thus designed a bed structure which can drop from the ceiling and which can be accompanied by a whole set of consoles, a desk and storage spaces. In the same spirit, the startup Ori Living has designed a series of modular products. The principle: two modular walls that can be slid on the ground to create a new space that can accommodate an office, a dressing room or a studio. Modularity is a craze with the public and is essential in the home with shelves designed to measure by customers such as those from Tylko, a Polish company which posted 36 million euros in turnover in 2020. Little by little small, the whole fireplace therefore becomes modular, sometimes even down to the tables since the French company Tiptoe offers, for example, metal legs that can be used to support a dining table, a coffee table, a desk or a bench seat and which allow the furniture to be dismantled in just a few steps.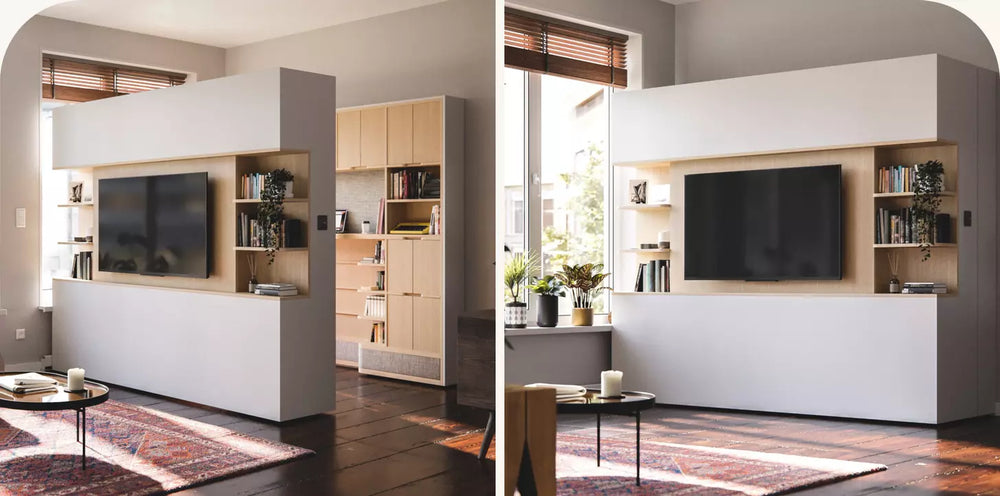 Ori Living makes it possible to create new modular spaces within a room.
Photo credit: Ori Living
Modularity, because it offers individuals the freedom to transform the object or space according to their needs, then becomes synonymous with quality of life at work: like a return to the roots of the philosophy of the Action Office , the work environment must adapt to its users and not the other way around. It is therefore not surprising to note the popularity of standing desks (sit-stand desks) which allow employees to easily raise or lower the desk top in order to be able to work standing or sitting as they wish: the market for standing desks, estimated at more than 665 million dollars in 2022, is expected to reach more than one billion in 2028.
Agile working methods and flex office organization breathe new life into modular design
The flex office , literally "flexible office", is a mode of organization in which employees do not have a fixed workstation. Instead of one post per person, according to the business real estate consulting firm JLL, it is 0.67 post per person that should now be counted. Whether we are talking about desk sharing , dynamic office, free seating , the idea remains the same since it is a question of meeting several needs: that of reducing the unnecessary costs of a work space that is too large, too cluttered of offices when the pandemic has folded the cards of face-to-face work, and that of reconfiguring the space according to new needs and uses. If you have to bring employees to the office, it's more to collaborate than to work alone, which makes the notion of a fixed position almost obsolete.
It is to this growing need for flexibility that the French startup Ubiq responds. Its digital platform is transforming the office market by offering more than 3,000 office offers throughout France and a team of experts who help companies in the field to consider all flexible office solutions and choose the most suitable for their team. Mehdi Dziri, CEO of Ubiq, however qualifies the popularity of flex office: it is functional. Approached from the angle of the reduction of m2, this becomes a subject of tension between the management and the staff representatives but also with the employees. Moreover, only 4% of them are in favor of it according to a study carried out by ESSEC Workplace in June 2021." In the era of modularity, it is therefore necessary to think of the office above all under the prism of agility and to align its design with the increasingly popular so-called "agile" working methods, modularity thus being only a consequence more than an objective.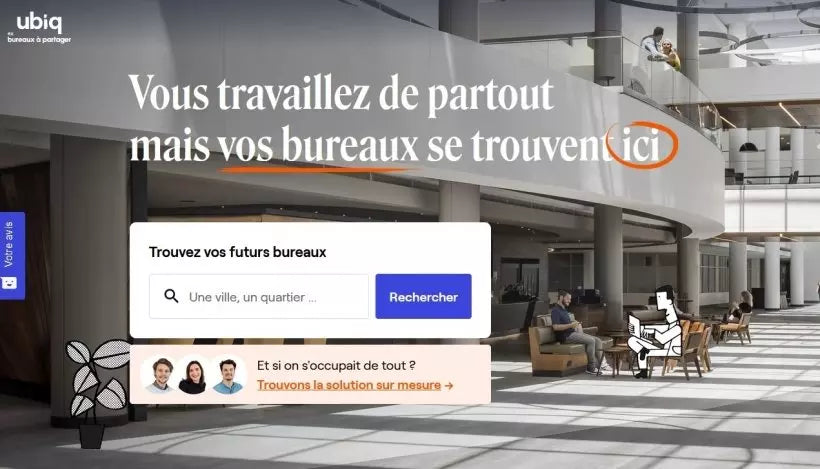 Ubiq helps companies find the office model that suits them.
Photo credit: Ubiq
Several criteria are necessary so that office spaces can be in the image of agile methods despite the limits imposed by the materiality of the elements. First of all, teams must have the choice to grab the space and control over how best to use it. Then you have to think of intuitive transitions to be able to go from individual tasks to work sessions with several people.
Frequent reconfiguration must also be possible: desks, chairs and other pieces of furniture and decoration must allow employees to customize the space as their needs change and their projects progress. It is also necessary to create spaces where it is possible to stand up since certain meetings, such as "stand up meetings", do not require sitting down because they are so short. Sometimes you also need to be able to stand in front of displays to discuss next steps.
An agile space must also allow you to be able to isolate yourself for tasks requiring significant concentration, without having to walk miles of corridors to get to a meeting room. Being able to receive customers in such a way as to integrate them into work processes is also becoming a strategic issue. The intense aspect of agile work, which requires constantly adapting and moving fast, also requires spaces to breathe and catch one's breath, hence the need for greenery and spaces bathed in natural light and open to the outside. Finally, you need to be able to display information vertically to help the different teams test their ideas, track their progress and maintain a focus on the objectives while remaining aligned.
Companies can afford modularity through furniture or services
In short, agile space requires designers to change their modus operandi : rather than thinking space based on the number of m2 per person, we must think by m2 per team, and design for movement rather than density. For Mehdi Dziri of Ubiq, the observation is often the same when a company switches to flex office: "Employees do not play the game, always settle in the same place and appropriate an office. Companies must now switch to an approach aimed at creating utilitarian workspaces, promoting the performance of specific tasks. Spaces to concentrate, spaces to produce with others, fluid spaces to reorganize to collaborate and create, modular spaces to make a videoconference alone or in a group... It is not a question of removing the assignment of a post to an employee but to allow him to work from the space best suited to the task to be carried out, which may lead him to change workspaces several times during his day.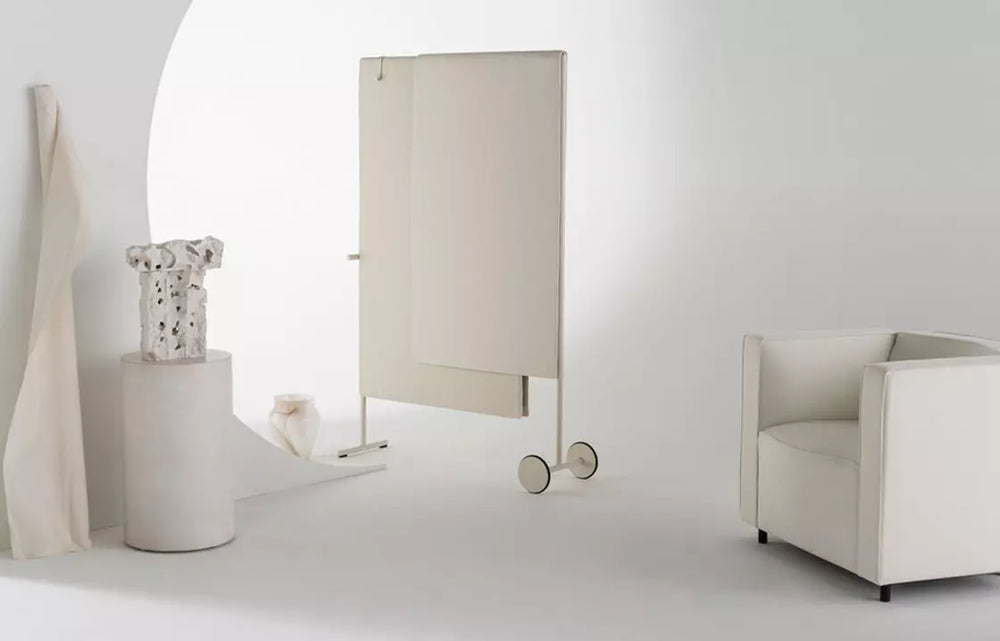 The Thelma acoustic absorption panel on wheels created by designer Pauline Deltour for Offecct.
Photo credit: Offecct
Many products exist on the market today to make this flexibility possible. Designer Pauline Deltour worked with Swedish furniture manufacturer Offecct to create Thelma, a sound-absorbing panel on wheels. This screen combining fabric and a lacquered metal frame allows you to divide the space at will in an elegant way. Danish designers Christina Strand and Niels Hvass have created a modular sofa system for the office that is constructed and deconstructed by assembling blocks of seats, thus making the configuration possibilities endless. The light is not left out since Nanoleaf, a Canadian startup, has launched since its creation in 2012 several series of lighting to be built in the form of triangular, square or hexagonal light panels. Users can thus build their lighting by connecting the panels as they wish. They can also modulate the light thanks to the application which allows them to control the color or the dynamic color variations of the LEDs in order to create or program the lighting according to their desires.
However, making workspaces modular may involve reviewing the human organization of the company and giving the teams in charge of personnel and the site a new state of mind and a new function: to help with incremental improvements to promote speed and flexibility. Should you outsource this function or create it within your company? Here again, Mehdi Dziri of Ubiq brings nuances to these current upheavals: "Rather than imagining a space planning and freezing it, can we consider a flexible and adaptable layout in real time in service mode? It is possible to envisage an intelligent and permanently adaptable layout invoiced in the form of a service and which can be changed, redesigned each month according to the use of the employees. Carrying out, managing work, managing the layout of an office is a long and complex job. But today companies need to focus on their core business and are looking for flexible solutions that will allow them to offload these issues while being sure to have a real place to live for their team, a place to live and run your business." In an interview for Work With Island, designer Michel Ward, founder of Design My Camp, shared the same vision about the Imagin'Office offices located near Bastille in Paris: "These are additional modularity services that allow us to adapt to the customer's request."
It would therefore be possible to benefit from the advantages of flexibility not by choosing modular furniture but by outsourcing this flexibility in the form of a service. It would therefore not be surprising to see more and more companies emerging offering this flexibility service: "What if, instead of buying your own furniture, you considered the layout of your offices as a scalable and adaptable service for x€/m2/ month ? For example, we work a lot with Slean, which has an innovative layout offer. Similarly, the Norea group imagines offers in which people will rent rather than buy their work when moving into an office," reveals Mehdi Dziri of Ubiq.
Thus, if modularity within workspaces is nothing new, recent technological innovations as well as the appearance of new services offer companies tools allowing them to adapt more and more quickly to their needs in constant evolution as well as the socio-economic upheavals they have to face.