Eco-designed cabins made in France
For responsible offices
The construction sector is one of the main contributors to greenhouse gas emissions. It contributes, among other things, to 23% of atmospheric pollution. It is also one of the largest operators of resources, half of which are non-renewable.
This is why since our creation in 2018, each of our decisions has been carefully considered in order to reduce our carbon footprint, from the design to the manufacture of the Islands.
Work With Island has been committed since its creation in favor of made in France in order to support local employment. Every day, our teams work hard to design eco-designed acoustic cabins and forge new partnerships with French factories.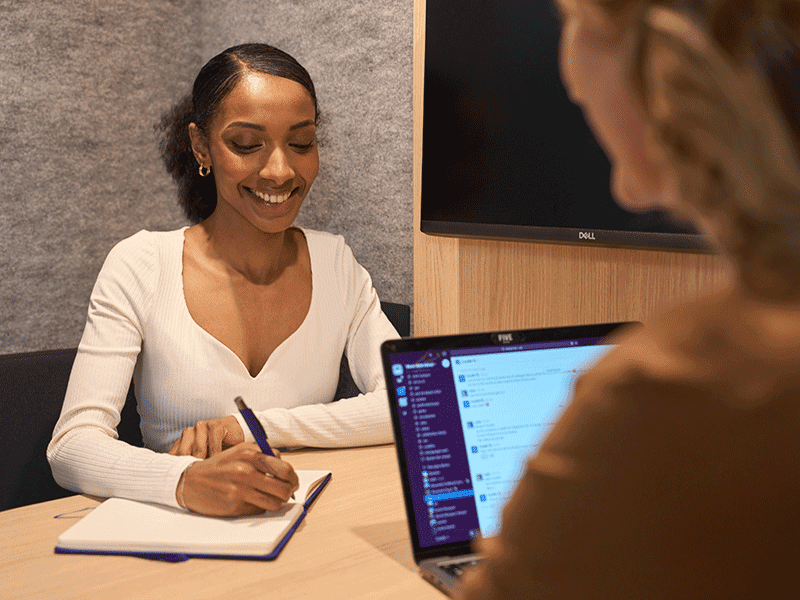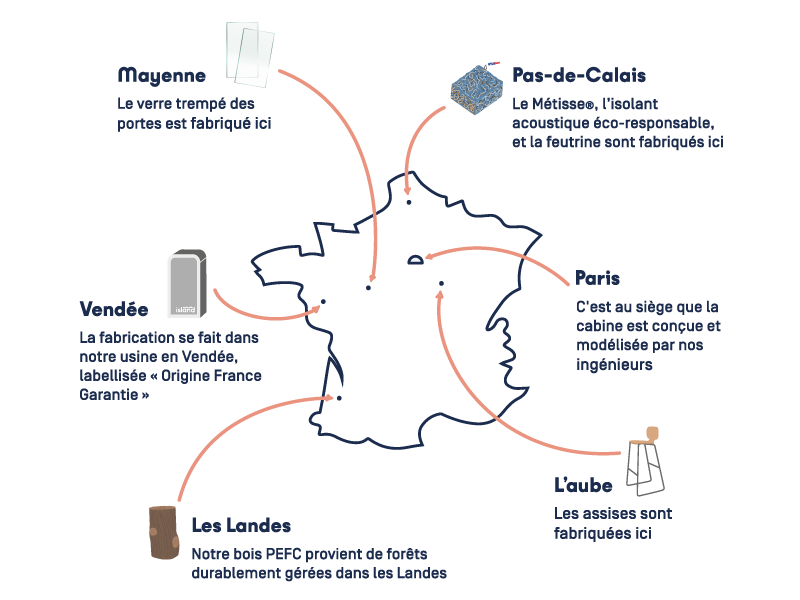 Why did we choose
to
produce in France

?
From the origin of our materials to the final assembly, all manufacturing is local, committed to preserving jobs and know-how in our regions. This 100% French production allows us to limit transport costs while allowing quality confection.
The manufacturing stages are in fact taken care of by various partners spread over the whole territory, allowing us to benefit from unparalleled know-how. It is in Pas-de-Calais and in the Landes that our materials are sourced. And in Vendée that our factory, certified "Origine France Garantie" manufactures Island cabins. Its expertise ensures local and committed production for the well-being of all.
Manufacturing in France and in a short circuit also allows the creation of many jobs. No less than 50 people are employed in the manufacture of our soundproof cabins .
An
eco-designed

acoustic cabin
A fair price
By focusing on the product and those who make it, we choose to devote our largest item of expenditure to labor. Our objective: to allow each player in the chain to be fairly remunerated. We want to show that being fair does not prevent building a competitive and profitable industrial model.
Kit delivery
Our kit design makes it possible to reduce the storage surface, to deliver flat more easily and to optimize the number of cabins transported in a truck. In addition, our products being manufactured in France, this allows us to shorten our delivery routes and thus limit our carbon footprint.
Recycled

and

sustainable

materials

We are committed to helping preserve the environment and this determines many of our choices. The wood we use to make our cabins comes from sustainable forests.
For the acoustics, we chose Métisse, a biosourced insulation whose ecological impact is almost zero because it contains 100% recycled fibers.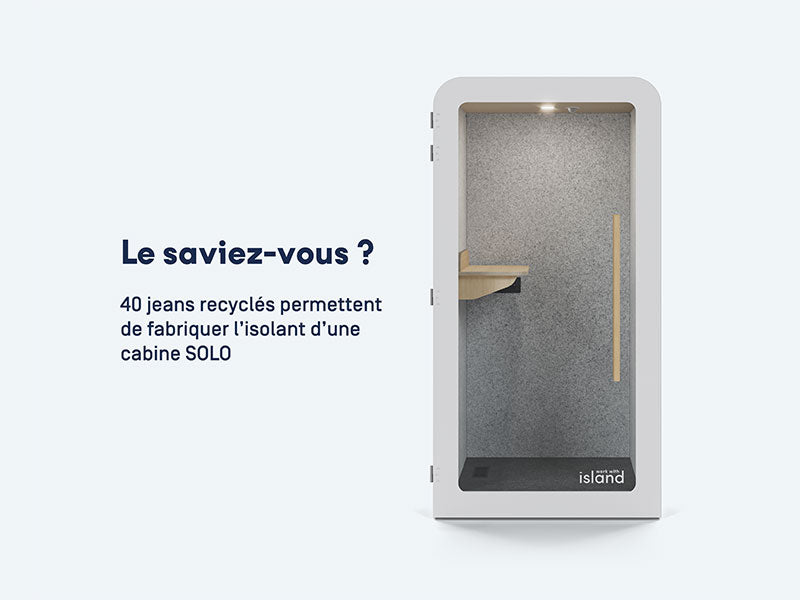 Why is the Métisse made of jeans?
Jeans are the most worn garment in the world but also one of the most polluting. Indeed, jeans alone require hundreds of liters of water, pesticides, dyes, powerful detergents and millions of kilometers of transportation.

To reduce the ecological impact of jeans, our partner, Le Relais, has decided to upgrade them to insulating materials called Le Métisse. If the latter is widely used by property developers, it is because it insulates against cold and heat. But if Work With Island chose it, it's for its exceptional acoustic properties.
Today, 40 recycled jeans make the insulation for an Island SOLO.
What is
the environmental impact

of our cabins?
Work With Island uses the Waro platform to measure the environmental impact of its acoustic cabins. This approach analyzes all the stages of our cabin cycle. It takes into account all the environmental impacts produced at each stage: from the extraction of raw materials, through transport until its end of life. Thanks to this tool, we know that our Island Solo cabin emits, over its entire life cycle, 494.9 kg of CO2, the equivalent of driving 2,564 km. By way of comparison, a cabin that is not eco-designed emits the equivalent of 5,724 km by car. Our engineers work daily on the eco-design of our products in order to reduce their impact as much as possible.