Acoustic cabin: tomorrow's solution for working in peace
A modular, scalable and accessible solution
The pandemic has profoundly changed the ways of life and work of companies and employees. The generalization of telework has led everyone to rethink their relationship to work and to realize the constraints that weigh on their daily life in the office. It is therefore necessary for companies to adapt their workspace to the new uses and needs of their employees. The office must be more comfortable and promote productivity, but it is difficult to concentrate in a noisy space! So to improve the well-being of its employees, companies are turning to acoustic cabins to offer calm, concentration and respect for privacy.
Our sound insulation booths
Our soundproof booths are designed and produced in France with an eco-responsible approach. They are the preferred choice of companies seeking to offer the best possible working experience, while facilitating hybrid organisations such as teleworking and flex offices. Our aim is to offer you optimum acoustic insulation, as well as ergonomics and ventilation to ensure perfect comfort over extended periods of use.
Download product guide
No cabins match your search. Please extend your filters.
What is a sound insulation cabin?
A soundproof cabin is an acoustic solution developed with the aim of reducing noise pollution in a workspace and allowing an employee to isolate themselves from noise. It is therefore an enclosed space whose main characteristic is to prevent exterior noise from spreading to the interior.
It is in this sense considered as the place par excellence which allows to have silence around you and to guarantee calm and confidentiality in an open space.

Beyond preventing the sounds and vibrations around the cabin from spreading to the interior, this type of cabin must offer a certain comfort to its user to encourage him to use it and stay there as long as possible. 'he needs.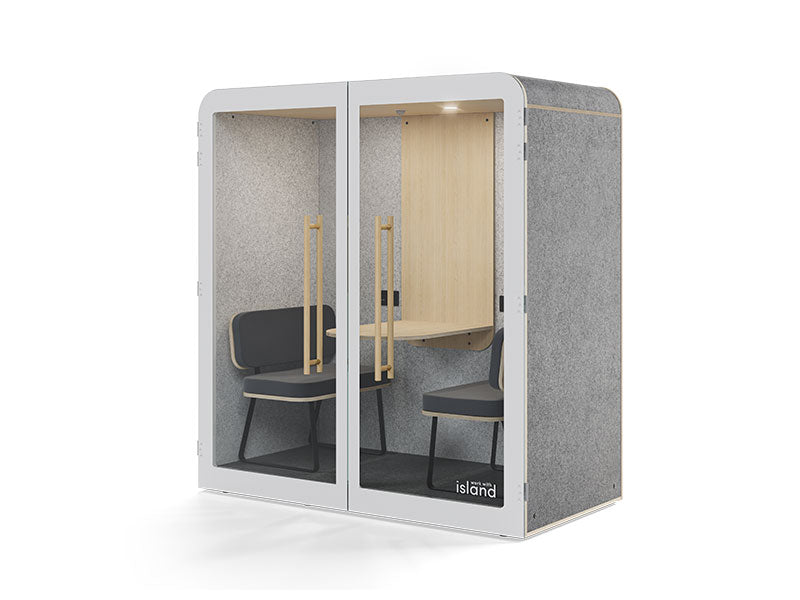 What are the types of acoustic booths?
There are many soundproof booths on the market and at all price points. Indeed, they can be more or
smaller depending on the number of people to be accommodated inside. Also, they are designed according to the
type of activity: working alone on your computer, having a team meeting or even making a call
any privacy. Their size will therefore vary depending on the use you want to make of them.
Download the product guide
Why buy an acoustic cabin for your offices?
Thanks to the democratization of telework in companies, acoustic cabins are popular in open workspaces. Appreciated for offering calm and concentration, the phone box has other tricks up its sleeve!
Below, discover the 4 reasons to have one in your office.
Buy an acoustic cabin to isolate yourself in an open space
According to a survey carried out by the European Agency for Safety and Health at Work, 67% of French people say they are bothered by noise in their workplace.
Unfortunately, an environment that is too noisy can have consequences on the productivity, well-being at work and the health of your employees.
The cabin has the advantage of fighting noise in your workspace. Providing peace and quiet to its employees is essential and as a bonus their productivity will be enhanced. As proof, 52% of employees claim that they are more productive if they work in an environment free of distractions.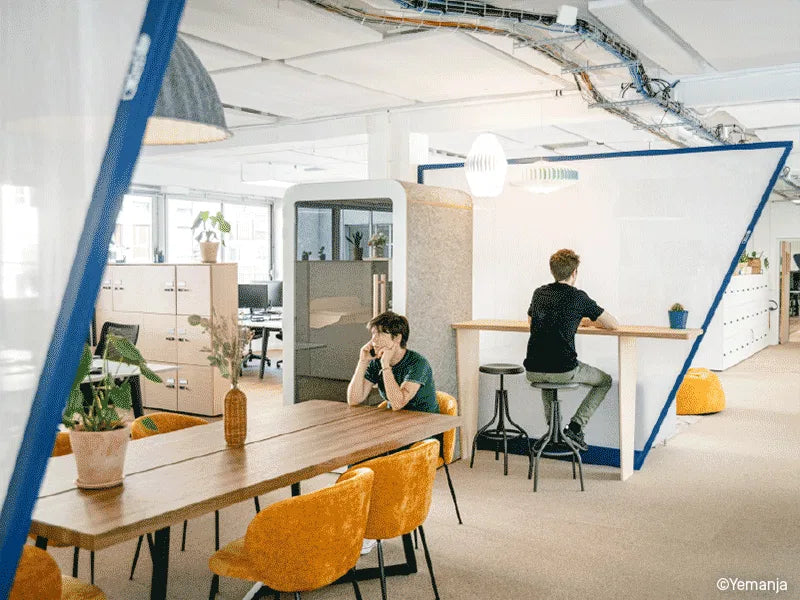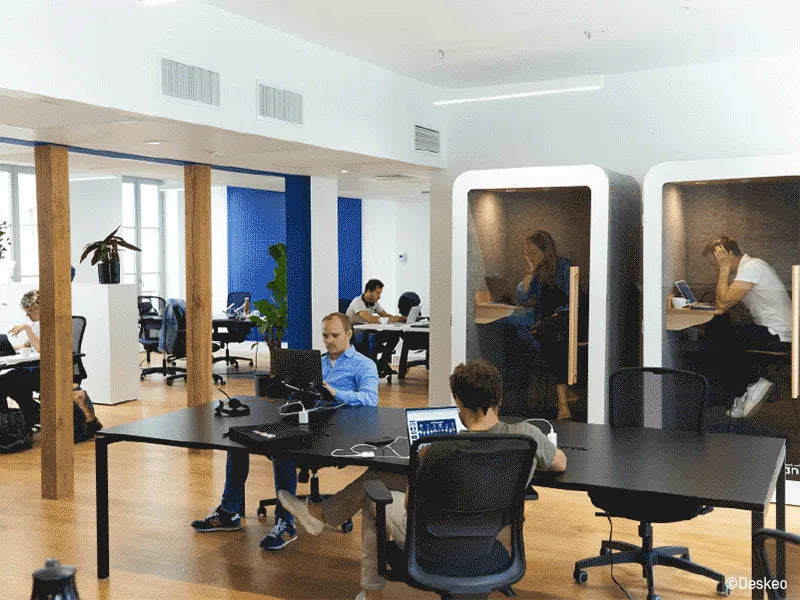 Buy a cabin to afford a privacy bubble
We estimate that 50% of professional buildings will follow a flex office logic in 2025.
But with this type of development, new constraints are emerging. Indeed, the question of isolation, individual or group, arises. Thanks to its insulation, the cabin seems to be ideal since it guarantees confidentiality of exchanges unlike acoustic partitions.
Moreover, the acoustic cabin seems the perfect solution to receive customers and partners with complete peace of mind since it can accommodate up to 4 people. It offers you an intimate setting in which you can discuss and dialogue without interruption and without fearing for the confidentiality of the information exchanged during your meeting.
Buy a cabin to optimize the surface of your offices
In all companies, there is the same scenario: the lack of meeting rooms.
They fill up quickly and employees find themselves without options. Moreover, too often, large rooms accommodate only one employee because he has not found other places so as not to disturb the others.
To overcome this problem, it is not necessary to have larger premises, by adopting acoustic cabins you will save time for your team and offer them a more functional working environment.
In addition to optimizing the surface of your offices, they fit into any type of space, especially those in which conventional partitions are difficult to implement.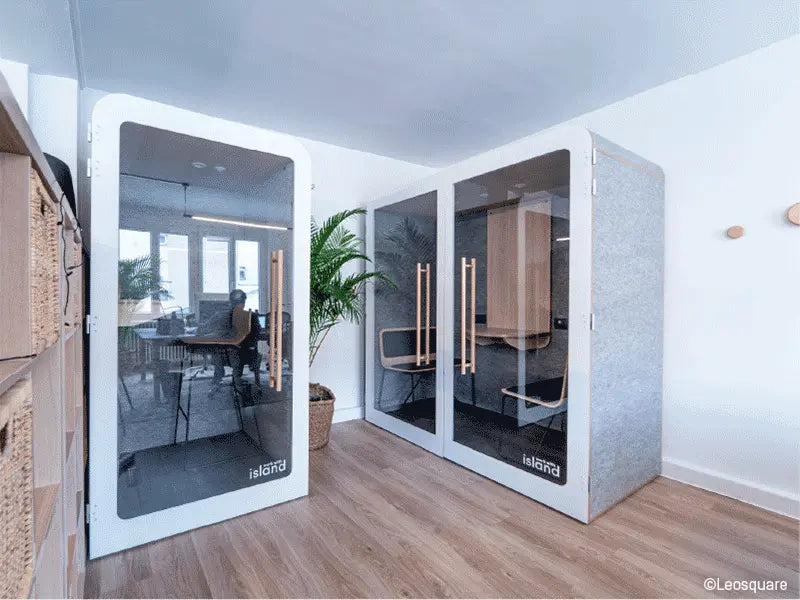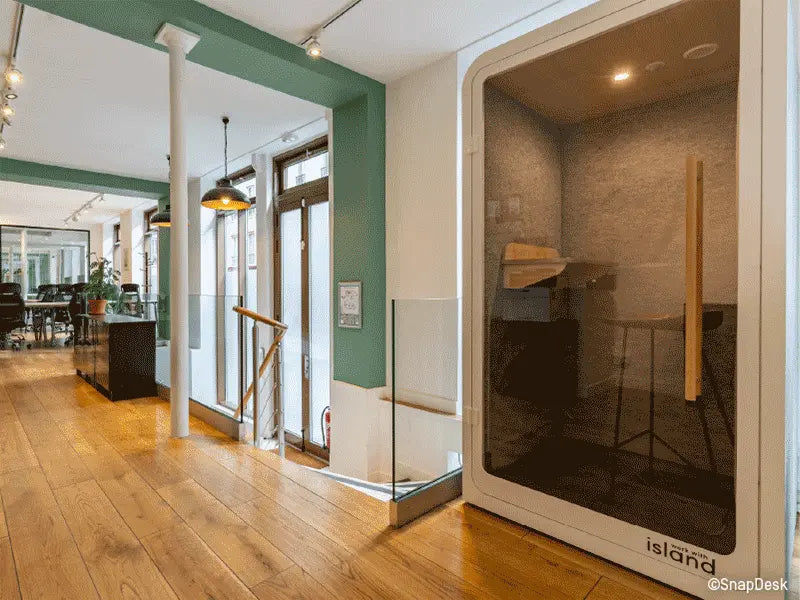 Buy an acoustic cabin to have a modular workspace
The soundproof booth is designed for individual or team work of up to four people. Its compactness allows the optimization of m2 and you have no loss of your surface!
The acoustic cabin is then presented as a modular, scalable solution at a lower cost in terms of building.
Delivered as a kit, the Island acoustic cabin is easily removable and reassembled to move it or take it with you according to the evolution of your spaces. You can therefore put it wherever you want according to your needs and the layout of your workspace.
How are the cabins built?
sound insulation?
The soundproofing level of a booth is not the same depending on the use for which it is intended (translation booth, recording studio, etc.). But in any case what will make the difference between two cabins are the materials that make it up. These have a direct impact on acoustic performance.
What materials are used to make Island cabins?
To form the walls of our Island cabins, we sandwiched three different materials to absorb all the noise. Let's take a closer look at the materials we use.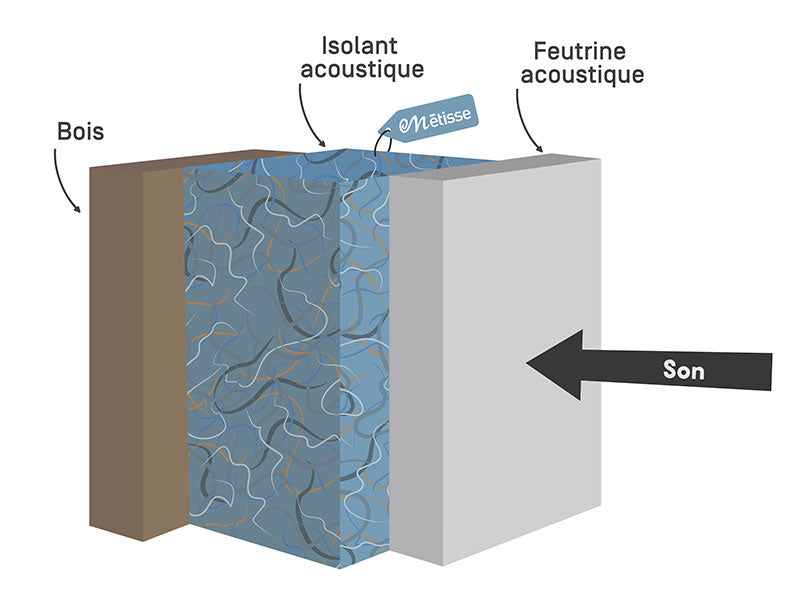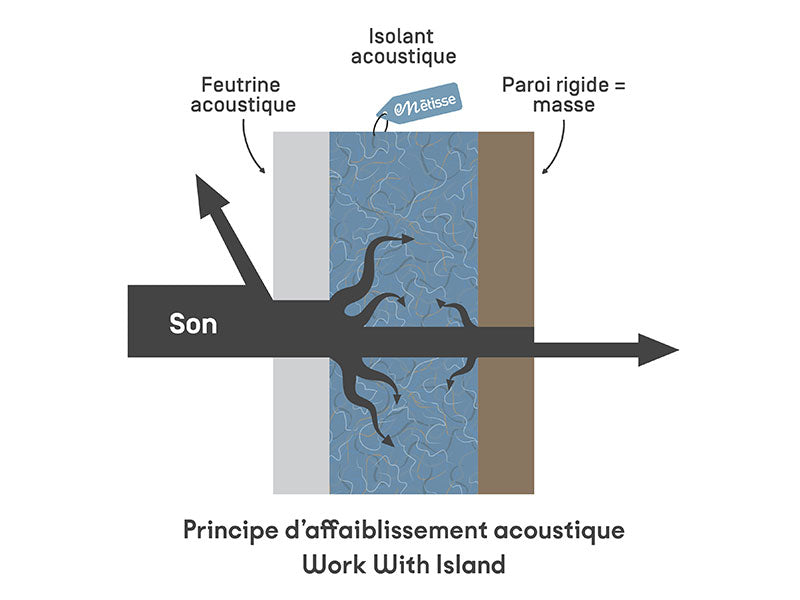 We use a so-called asymmetrical wall structure. Placed between the wood and the felt, the Métisse®, an acoustic insulator made from recycled textiles, will play the role of a spring and will contribute to the attenuation of noise.
The diagram below illustrates the principle of operation. The first rigid wall reflects part of the noise. Partly absorbed by the insulation, the residual noise will be reflected by the second facing plate. In the end, only a small residual part of the sound emission will cross the 3 layers.
How do we measure the acoustic performance of our cabins?
Our cabins are tested by an independent acoustic laboratory and certified to ISO 23351-1, a standard specific to acoustic cabins. This assessment enables us to confirm our own tests, and reflects our commitment to quality. We have adjusted the design of several elements (fans, 8mm glass doors, sound seals) to achieve the ideal level of soundproofing while offering the best overall comfort for users.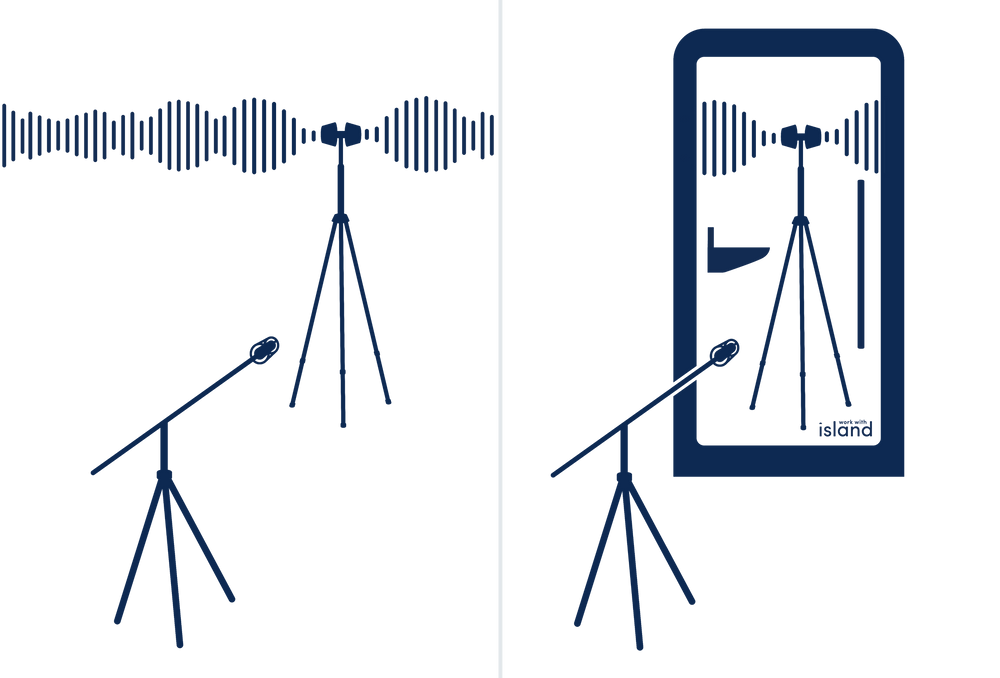 Eco-responsible cabins
The acoustic cabins of Work With island are all designed using recycled and recyclable French materials. Our desire is to manufacture a product that improves the daily lives of employees while preserving the environment. It is for this reason that our cabin is mainly made of wood, mestizo and felt.
Our Island therefore has a very low ecological impact but will have a strong impact on many aspects of your business. Indeed, it will improve the working conditions of your employees and at the same time their performance.
Prefabricated cabins
Our Island cabins are delivered as a kit with a single tool for quick and easy assembly. They are assembled in just 1 hour by two people. The advantage of this type of assembly is that they can be disassembled and reassembled ad infinitum, so you can move it or take it with you as your spaces change.
Why prefer a cabin to the acoustic partition?
Acoustic furniture actively participates in making the open space a pleasant workspace suitable for exchange. But which solution to choose between the partition and the acoustic cabin?
If the acoustic partition is very popular with companies, it is because it is financially accessible. However, the performance in terms of sound insulation of a solid partition (lined with insulating wool) will be low since it is only a wall and not a closed and hermetic space.
They therefore offer limited privacy for your phone calls or meetings while the cabins offer a confidential space while protecting you from outside noise.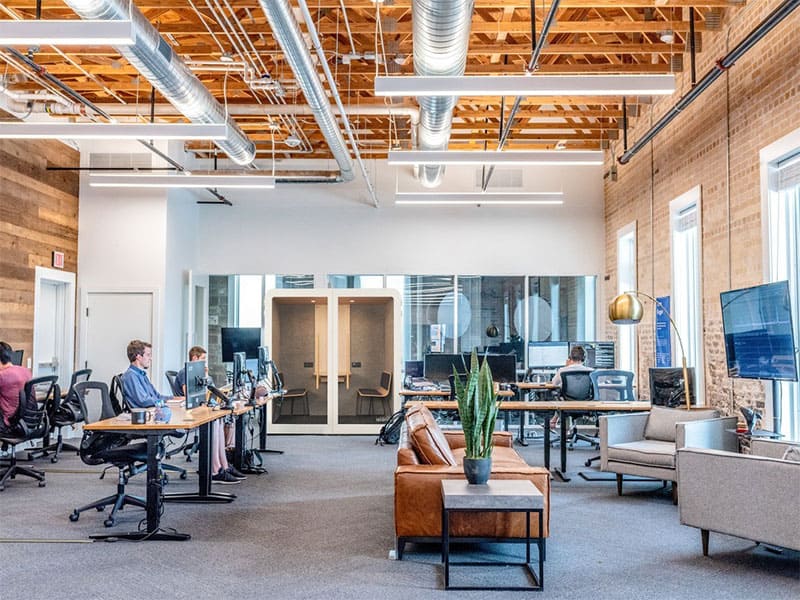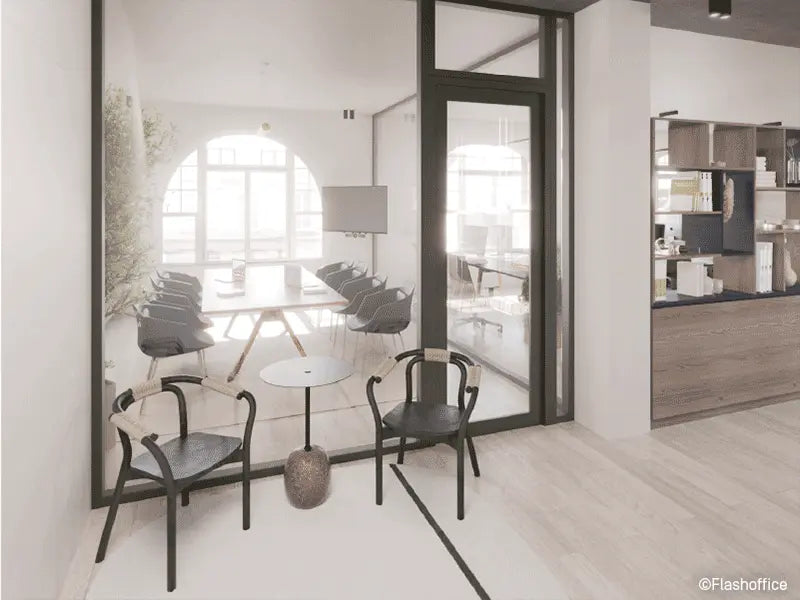 Also, partitioning part of your space will transform your open space into a classic office. While the cabins allow you to keep your configuration while eliminating the inconvenience associated with this type of office layout.
In the long term, cabins are also a better investment. Removable and reassemblable, they can follow you during your moves. While the partitions, once installed, are an integral part of the offices.
Even if the acoustic cabin seems to be a better choice in the long term, it is advisable to test them before buying them. Indeed, there are a plethora of cabins on the market but not all are equal. We advise you to go and test them in a showroom, this will allow you to check the acoustics and ergonomics.