Office landscaping may seem quite abstract to some, yet the layout of the premises may well have a significant impact on productivity and well-being. Greening workspaces could reduce stress, anxiety and fatigue, while increasing employee concentration and motivation.
What if, to improve and beautify offices and make the hours spent thinking more efficient, vegetation was a solution?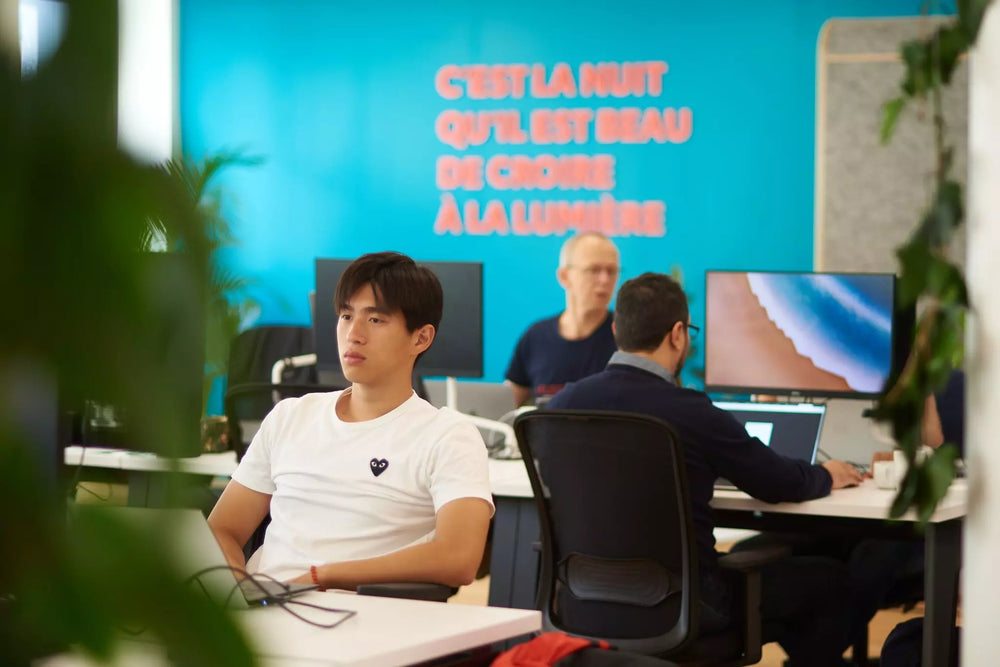 Photo credit: Deskeo
What is the revegetation phenomenon?
If the word speaks for itself, it may be interesting to better define the concept. Covering a surface with plants seems to be gaining momentum. The revegetation of living spaces gives back all its letters of nobility to the plant: the green flowers and spreads out to offer its most beautiful setting. The plants used can be of various kinds: flowers, plants, herbaceous plants... and the surfaces that become green are multiple: roofs, terraces, walls, interior spaces, offices... Biophilia , or the art of inviting nature into spaces interiors , is on the rise. More than a simple desire for greenery, the biologist Wilson, in 1984, highlights " man's innate need to integrate into the natural world ". In short, plants invest a living space for a more pleasant environment, and it seems to have a real impact!
Plants in the office, why?
Cold office with white walls or welcoming atmosphere in a green setting? We bet that everyone would tip the scales for the second solution in terms of their working environment. And the numbers prove us right! Studies confirm the benefits of plants in workspaces both physiologically and psychologically. Air purification, well-being, productivity, mood, stress, fatigue, creativity… the power of plants may be greater than we think.
A pleasant living environment and a better image thanks to plants
Working in a green environment is pleasant. The American Psychological Association conducted a survey and showed that plant decor is appreciated by employees, even improving the image they have of their company and their employer. The vegetal and flowery decoration conveys the image of a certain comfort and of an employer concerned about well-being at work and the employees perceive the message very clearly! Contact with nature is a need felt by some employees, especially those who work in the city, the latter are delighted with the idea of ​​giving plants a central place in living and working spaces.

Plants are also proven to help keep employees healthy . By reducing the amount of CO2 present in offices by 50%, plants humidify the air, absorb bacteria, dust and mould. The Norwegian botanist Fjeld, shows, in a study conducted in 2000, that depolluting plants even have the power to absorb half of the nanoparticles present in the air and neutralize the waves of computer screens. Good point for plants!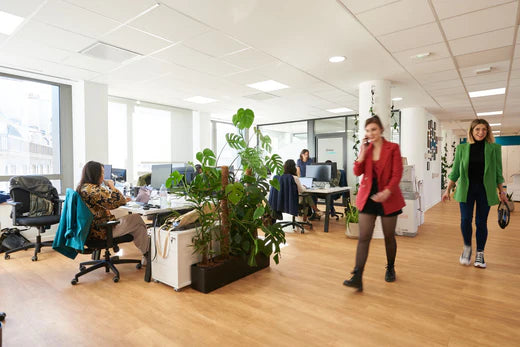 Photo credit: Deskeo
Decorating an interior with plants is also part of the trend of recent years, employees appreciate dynamic companies, in the era of time and listening to the world. A framework appreciated by employees and a good image for companies. Committing to a CSR approach and improving the daily lives of its employees by welcoming plants into offices is a guarantee of quality of life at work.
Less stressed employees in a green environment
Plants and the working environment have a real impact on stress, and this has been proven since 1993! University of Michigan professors Rachel and Stephen Kaplan, specializing in environmental psychology, prove that employees who have a view of a garden, trees or plants from their office window are less stressed and more satisfied at work . And the botanist Fjeld supports this observation and highlights the direct impact of the presence of plants in the office on health, he notes a 19% reduction in headaches, a 37% drop in cough, a decrease in 30% feeling of fatigue…
Increased creativity and productivity
The power of plants does not stop there! In 2002, Robert Ulrich, from the University of Texas, carried out a study over 8 months which highlighted a 15% increase in creativity in the presence of green plants and flowers in offices. The survey carried out by Human Spaces reaches the same conclusions: plants would be able to boost inspiration and creativity by 14%. The same goes for productivity. A study by Cardiff University leads to the following conclusion: greening a workspace increases productivity by 15% . Something to subscribe to green! Plants therefore improve productivity and creativity by combating absenteeism. The American University of Oregon shows, through a study conducted in 2011, that the presence of plants in offices can reduce absenteeism by 10%. Another good point for the plants!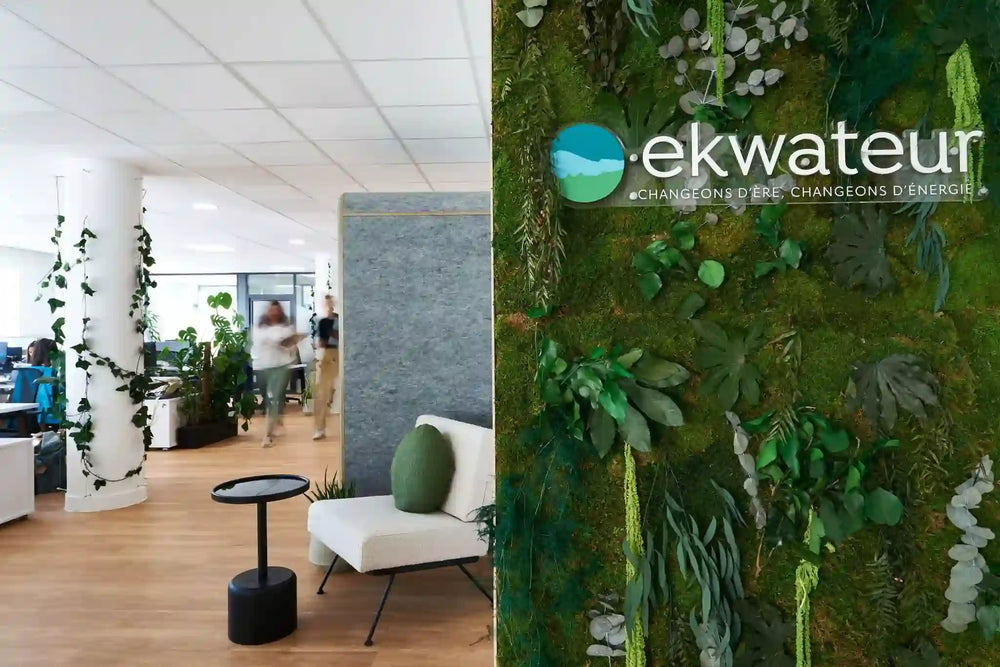 Photo credit: Deskeo
Which plants for a greener office, how to green your offices?
Without having a green thumb, it is not always easy to start greening your offices. Some professionals, like aKagreen, offer to help companies furnish their workspaces with plants. Their manifesto? They are " convinced that plants must be given their place in order to better understand, respect and protect them. Launched in 2016, aKagreen greens workspaces and cultivates well-being through plants. Companies and start-ups can get support to create a more welcoming, engaging and attractive living space.
Depending on the needs and desires of each office, aKagreen adapts and offers turnkey formulas ranging from the layout of the premises to the maintenance and rental of plants. The proposed plant installations are sustainable and aKagreen is committed to respecting the living in a transparent and eco-responsible approach.
Plants must be given their place in order to better understand, respect and protect them.
Nobody has a green thumb in the office? No problem. Baptiste Perrette, communication officer at aKagreen, explains that " Our Green Hands regularly visit our customers to water, prune, clean, in short, pamper the plants and answer any questions from employees! ".
You can also opt for plant walls, dress your acoustic cabins with plants or simply choose it green! No more excuses for not going green! Your employees will be the first to be delighted!