Company culture is what differentiates a company from its competitors. Practicing it represents a huge asset both for the company and for its employees. Leader, manager or director, your goal is to give a better image to your company.
What is corporate culture?
Also called organizational culture, its culture makes the personality of a company. Unique, it designates all the values, standards, working methods and traditions of the company. In other words, it is about the way of functioning and the identity of a firm. Share it with all employees and put it into practice on a daily basis. Its aim is to bring employees together around a common project and it offers many advantages for the company.
The importance of corporate culture
It attracts new talent
Many young people are currently looking for work. Strongly influential, corporate culture is a criterion of choice for young recruits. Taking into account their professional growth, young talents are looking for companies that have internal values. So reinforce your company's organizational culture and strategy. Remuneration and benefits in kind of work are, to date, almost less important than the values ​​of society.
Organizational culture represents a positive image of the company during job interviews. Attractive, it facilitates recruitment and thus constitutes a major advantage in the face of competition. By having a good environment and a good working atmosphere, a company can become the number one choice of a young talent. Know that current recruits are looking for companies that value the well-being of employees. Attracting recruits then becomes easier.
It retains employees
The corporate culture attracts potential candidates and also serves to retain and retain employees. Effective, it makes teams the ambassadors of the company and the employer brand. By guaranteeing the positive image of their company, they influence recruitment. Note that company values ​​can be verified online, including on Indeed or Glassdoor. These platforms allow employees to rate their employers.
In fact, 81% of employees consider professional well-being to be a priority issue. Essential, the corporate culture ensures a good working atmosphere at all levels. By being happy in their work, employees are nine times more attached to their company. Make them proud to carry the values ​​you advocate and they will get more involved. In this way, your company will have employees capable of strengthening and protecting the organizational culture.
Here are the three criteria sought by job seekers:


Good relationships with colleagues: 95%


A good balance between work and private life: 81%


A socially responsible company: 75%


Don't forget that the comfort of the workplace is also an important element for current employees. For this, why not opt ​​for acoustic furniture ?
It improves internal cohesion
One of the main objectives of corporate culture is to strengthen team cohesion within the company. Unifying, it allows each employee to appropriate these common values ​​in cohesion with his collaborators. By acting thanks to its unifying qualities, the organizational culture has the capacity to limit internal conflicts.
Facilitate interactions with the outside and provide protection against possible threats such as competition. To do this, reinforce the values ​​of your company.
Employees under the same culture are less likely to come into conflict. Convincing, shared values ​​and visions are more easily compatible. By sharing the same frame of reference in their work, miscommunications and misunderstandings are limited. Build the life of the company around traditions that will give it rhythm. Contact pots, rallying names are very concrete examples.
It increases business performance
Quality of working life and business performance are linked. Consequently, the demotivation of a large number of employees is primarily due to the atmosphere at work. By being important, this demotivation can give rise to serious sequelae: drop in performance and high rate of absenteeism. Deduce from this that a motivated employee is an effective employee. In addition, you need to think about the image of your company that could be damaged if your values ​​are flawed.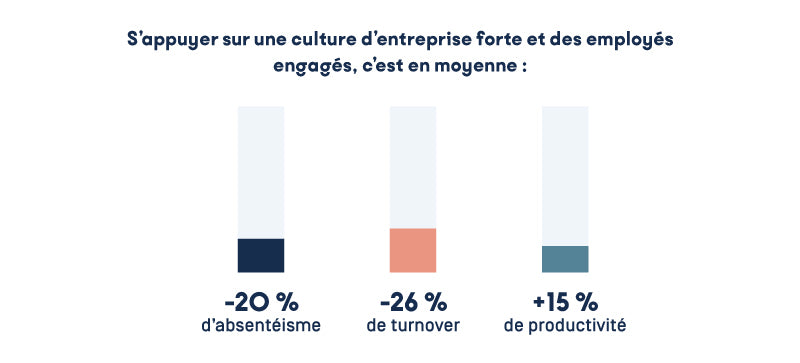 Source: Queen's University Center For Business Venturing
The organizational culture influences the innovation and adaptation of employees in the event of problems and difficulties. Useful, it is associated with the motivation and work of employees. By having good communication and therefore good group cohesion, the company deploys individual and team performance. Encourage debate and discussion to reduce the risk of fraud and concealment. Your company will experience performances whose power is held by your employees and especially your values.
How to forge a corporate culture?
Step 1: Define the purpose of the company
Purpose is the ideological foundation of a society's culture. Meaningful, it corresponds to the meaning and the reason for which your company was created. In going to this discovery, the questions "why" and "how" are the most important. Know the essence of your company's existence before creating its values. The first elements of culture are found in the answers to these questions.
Step 2: Gather and formalize shared values
The common values ​​within a company are based on the individual values ​​of each employee. Emblematic, these cultures serve as positive or negative images on the outside. By asking each employee to present their values, you will have identified what a team has in common. Always think of new recruits who are looking for a motivating professional life. Internal communication as well as cohesion and good atmosphere should stand out from the culture of your company.
Step 3: Create a universe around corporate values
A barely practiced value is a non-existent value. Applicable daily, a value must have a rich and complete universe. By listing the desired behaviors and those liable to sanctions, you participate in the creation of this universe. Do not hesitate to illustrate them, add key words and encourage your employees with action sentences. If the need arises, you can also organize reminder and sharing sessions.
Step 4: Encourage individual efforts
Working individually on daily behaviors is essential to strengthen the corporate culture. Inherent to society, organizational culture is also a matter of internal communication strategy. By taking privileged time, a team can give feedback on their individual efforts. Express the positives of tracking values ​​while identifying your "weak" values. Organizing in this way can help each employee improve their individual culture.
Step 5: Insert individual values ​​within your team
Sharing has its very raison d'être within the corporate culture. Coherent, the latter is the result of management, internal communications and evaluations. By passing the values ​​of your person to your company, you bond with the collaborators who have the same values ​​as you. Put together a team that shares the same visions in order to avoid conflicts. Thus, improving the corporate culture and perpetuating it will become easier.
Step 6: Project the corporate culture externally
Outsourcing the values ​​of one's company is considered useful for image and visibility. Primordial and necessary, it is a key element that will allow you to differentiate yourself from the competition. By affirming your uniqueness from the acquisition of customers, you anticipate the sale and the entire life cycle of the customer. Communicate and reflect your values ​​to your customers. To ensure customer loyalty, you will have to strengthen and improve your culture.
Step 7: Make regular updates
Regularly reworking the corporate culture with new arrivals means ensuring their commitment to the common project. Ongoing, this reworking ensures the alignment and understanding of each employee. By changing scale, your team must be autonomous and must be able to make decisions based on your values. Refine the introspective work of the team and each individual. In this context, meetings and training in acoustic cabins could be welcome.
Types of corporate culture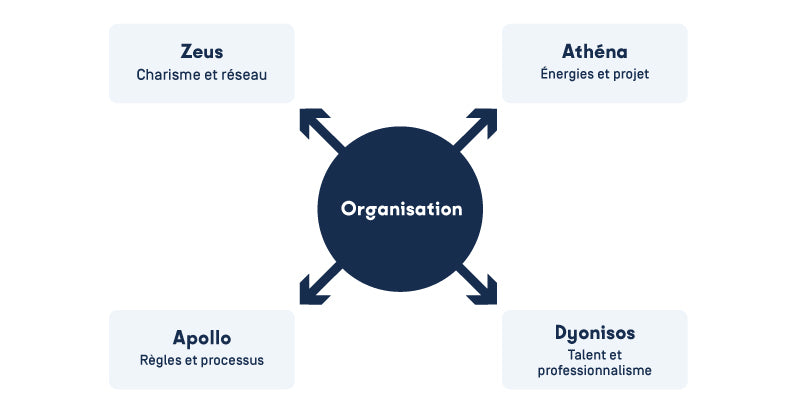 The "Dyonisos" culture
In this type of culture, all employees find themselves at the same level on the scale of values. Clan and family, the objective is to promote long-term cohesion and let each member express themselves to achieve their goal. By not having a specific organization, everyone is free to manage their work according to their character and their way of working. Consider this culture as a release of the creativity of each employee to develop the company. However, the manager occupies an important place and ensures internal cohesion with team building as a preferred solution.
The "Athena" culture
Adhocratic culture represents an organizational culture that governs a number of companies, including startups. Adept at challenges, this corporate culture emphasizes innovation, creativity and flexibility. By having a long-term vision, it ensures that its teams are constantly motivated to compete. Unleash your creativity and innovate in these adhocratic values, all in the comfort of acoustic furniture. The disappointment is however to be filled because the objectives are often high and the risk of failure more present.
The "Apollo" culture
This culture symbolizes the desire to frame the teams. Organized, it puts itself at the service of performance and the service provided to the customer. By adapting to specific sectors of activity, its objective is to do everything possible to beat the competition. Establish yourself as a leader in your sector and be rational. Freedom having no place, everything must be perfectly organized, planned, the teams having to follow essential rules.
The culture "Zeus"
It perfectly symbolizes the hierarchical corporate culture. Clearly defined, each employee must remain in their place and each has a role to play. By being led by a manager, each pole of the company contains decision-makers and performers. Present a major advantage with this culture: everyone is in their place and must carry out their mission. However, this business organization has setbacks because freedom does not prevail and creativity is restrained.