Is the company a form of organization conducive to creativity? Nothing is less sure. Indeed, the modern company, born during the Industrial Revolution in the 19th century, is by nature hierarchical: to achieve its objective, namely to maximize production while minimizing costs, the company centralizes the decision-making processes and divides the work. Its employees are required to coordinate through rules and processes for controlling and regulating behavior that are supposed to ensure the reliability, rationality and efficiency of the production process. The manager's mission then consists in controlling whether the employee, whose remuneration is partially based on the provisional achievement of his objectives, accomplishes his mission according to the plan that has been predetermined. The company thus encourages de facto standardization, predictability and reliability of behavior.
In essence, the rationalist functioning of the company could therefore oppose the emergence of creativity, or innovation, which can be defined as the production of new and useful ideas to solve problems and develop new products, services , processes, systems, working methods, etc. ( A Model of Creativity and Innovation in Organizations , Amabile). While creativity is a vital resource for organizations seeking to stand out from their competition, it can be easily endangered by socio-organizational factors such as corporate culture, or by environmental factors such as the layout of work spaces.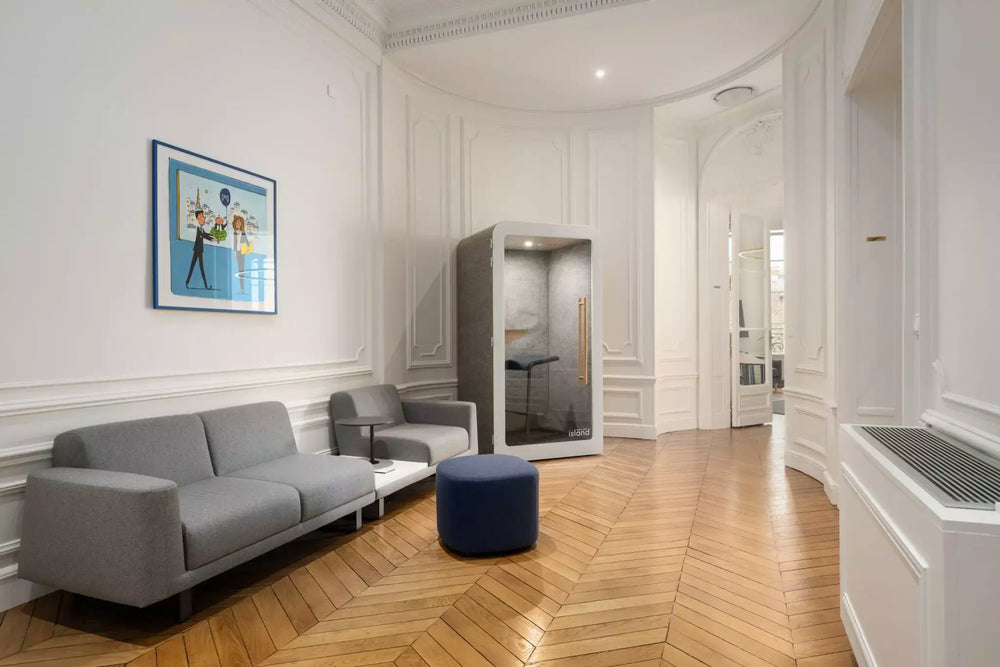 Creativity is a vital resource for businesses.
Photo credit: KARRÉ

A recent global survey by McKinsey reveals that while "innovation is essential to growth, especially as the speed of economic cycles continues to accelerate", and despite the fact that 84% of executives believe that innovation is essential for growth, only 6% are actually satisfied with the innovation performance within their organization, so how do you ensure that people remain creative despite the streamlining of production processes that characterizes What factors related to the working environment can contribute to encouraging innovation and creativity?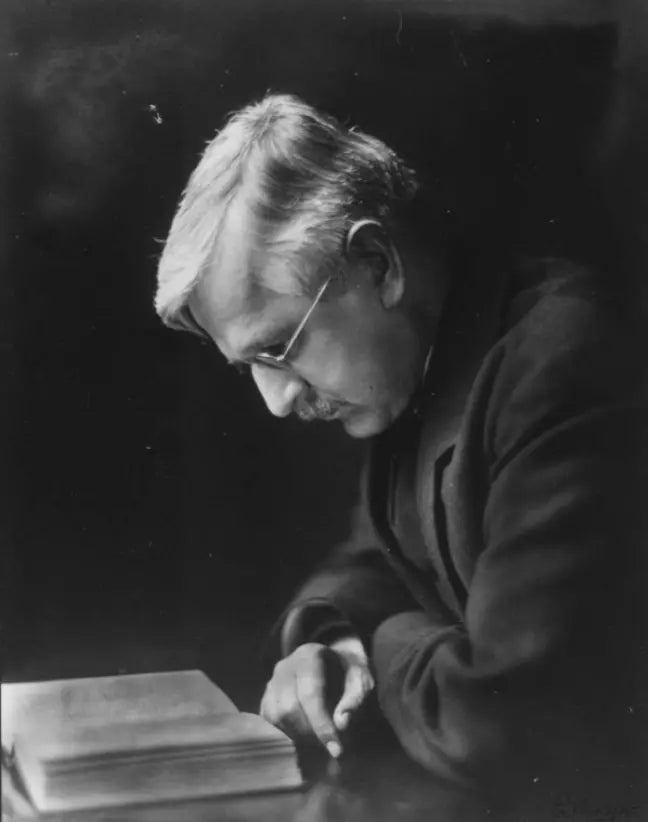 Graham Wallas (1858-1932) was a British academic and the co-founder of the London School of Economics.
Photo credit: Wikipedia

Creativity must be encouraged and supported by the company's HR culture and policy
It is possible for an organization to promote and encourage creativity through its corporate culture and its human resources policy. Graham Wallas (1858-1932), English academic and co-founder of the London School of Economics, was among the first to theorize creativity as a four-step process involving preparation, incubation, illumination and then finally verification ( The Art of Thought ).
Preparation consists of "searching in all directions" and consciously accumulating intellectual resources from which new ideas can be built. During the second stage, incubation, an unconscious process is at work: although no direct effort is exerted on the task, giving free rein to one's thoughts allows one to mentally and unconsciously select and mix ideas. and information collected during the first stage. In this very particular case, it may then be relevant to interrupt in the middle of a task because this interruption allows the brain to continue processing the information, which would not be the case if the task were completed entirely. Illumination describes that very special moment of "conscious flash" when a new solution appears in the mind. Finally, the last step, that of verification, consists of logically and rationally analyzing the new idea in order to test it and measure its value.
To encourage creativity within a company, the corporate culture must thus explicitly promote and reward certain divergent behaviors. It is not so much a question of recognizing the value of creative ideas as of contributing to their emergence: encouraging creative results only works if employees are allowed to take risks, to use methods or to rely on ideas that break with what has been done so far, and above all to make mistakes without their remuneration or reputation being directly compromised.
A climate of trust that allows employees the freedom and flexibility to carry out their tasks is another way to encourage creative ideas. Entrusting the employee with the responsibility of choosing the way to carry out his work is to recognize his expertise and his ability to mobilize it to find solutions to the problems with which he is confronted. It also means giving it time and space to incubate new ideas. This philosophy is at the heart of the corporate culture of Google, a company recognized as one of the most innovative in the world. It encourages its employees to devote 20% of their working time (in other words one working day) to passion projects related to Google. Introduced in 2004, the company's 20% project notably led to the invention of AdSense, Gmail and Google Talk.
The diversity of profiles can, in some cases, promote team creativity
Promoting teamwork could then be an effective way to confront ideas, bring out new ones and allow the selection and application of the best solutions during the verification stage. Recruiting different employee profiles within the organization can in this sense optimize the quality of exchanges by multiplying the points of view.
There is, however, a key difference between generating ideas and implementing them. If diversity in team composition seems to confer an advantage when it comes to bringing out a wider range of original and useful ideas, a study ( A different perspective: The multiple effects of deep level diversity on group creativity, Sarah Harvey) suggests that these advantages disappear as soon as the team is tasked with choosing which ideas to implement, probably because diversity hinders consensus.
Thus, a meta-analysis of 108 studies and more than 10,000 teams indicated that the gains in creativity produced by greater team diversity may be diminished by the social conflicts and decision-making deficits inherent in less homogeneous teams. . Therefore, companies have more to gain from increasing diversity in teams that focus on exploring or generating ideas, and building more cohesive teams to manage and implement those ideas.
The social environment of the company can kill the creativity of employees
Finally, at the employee level, five factors would contribute to the emergence of creative ideas according to a study by Professors Jan Dul of the University Rotterdam School of Management and Ceylan Canan of the University Uludag ( Work environments for employee creativity ) : the collaborator must perceive his work as stimulating, be led to change tasks, be autonomous, have time to think and finally have creative objectives.
Conversely, researcher Teresa Amabile, a specialist in the study of creativity, lists in her article How Your Work Environment Influences Your Creativity six aspects of the social environment that can threaten creativity, the fruit of her numerous studies: a expected evaluation (knowing that some sort of "judge" will evaluate your work when it's done), supervision (feeling being watched while you work), reward-based contract of employment (you do something with the promise of being paid or rewarded for your creation), compulsion to accomplish a task (you are told that you must create in a certain way), competition with peers, a focus on extrinsic motivations ( for example, power, money and fame).
If the managerial culture of a company can therefore endanger the creativity of employees, this same researcher has also found that a very specific factor could mitigate these risks: a positive mood can not only facilitate the generation of a large number of of ideas but also moderate the relationship between the socio-organizational environment and creativity. However, it remains to be seen whether a company is able to encourage this "positive mood".
Creativity is correlated with employee well-being
Many environmental factors, such as light, contribute to the well-being of employees. The design of workspaces, whether in terms of their architecture, organization, decoration or even their atmosphere, can in this sense promote creativity or, on the contrary, harm it. According to the study by Professors Jan Dul and Ceylan Canan, a window overlooking nature (trees, plants, lawn), and even any window overlooking the outside, increases the creativity potential of employees tenfold.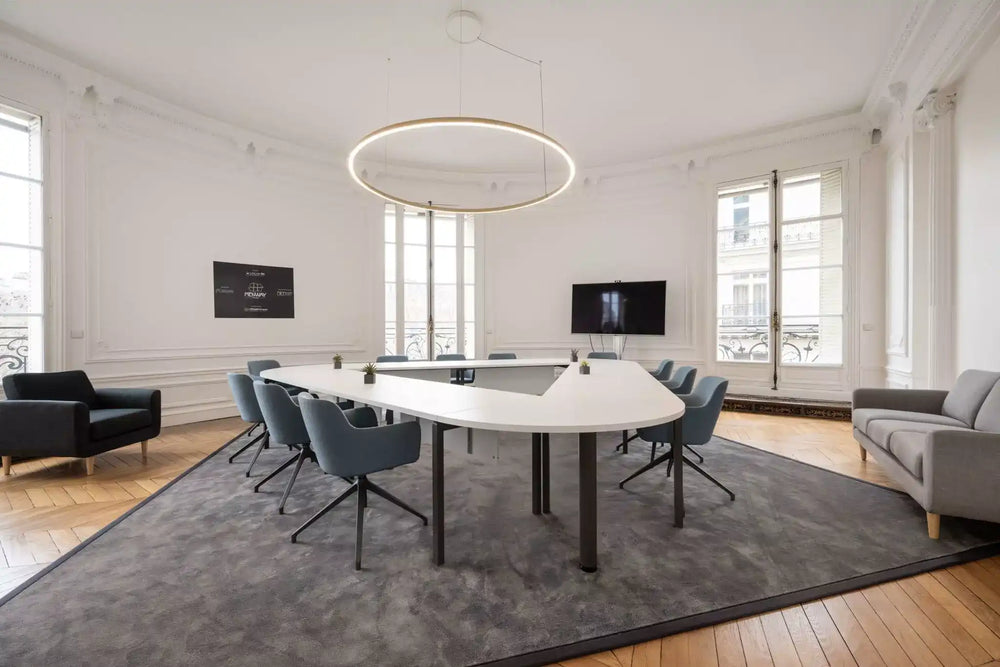 Natural light increases the well-being and creativity of employees.
Photo credit: KARRÉ

In addition, the study "The Employee Experience", carried out by the HR consulting firm Future Workplace, showed through a survey of North American employees that access to natural light and views of outdoors were seen as the most important attributes of a work environment, ahead of other factors such as the presence of cafeterias, fitness centers or even an on-site childcare system. business ( The #1 Office Perk? Natural Light , Jeanne C. Meister, Harvard Business Review ).
The benefits of natural light are numerous, as shown by researchers at Northwestern University who studied the impact of working in a windowless room (" Natural Light In The Office Boosts Health "). Greater exposure to natural light in offices has thus been linked not only to greater employee satisfaction and productivity but also to fewer absenteeism and fewer sick days. Still, most office workers aren't satisfied with the light in their workspace: of the quarter of a million workers in 69 countries surveyed by Leesman's workplace benchmarking tool, While 75.8% say natural light is important to them, only 56.9% are satisfied with it in their workplace. Companies therefore still have a lot to do in this area.
The layout of workspaces can be optimized to generate more creativity
The organization of space also has an influence on creativity. Preserving a form of intimacy by allowing employees to be able to distance themselves from others is a factor that has a positive impact on their creativity because it reinforces a feeling of security and well-being. In her study Controlling my boundaries: Explaining how and when workplace privacy promotes creative performance , doctoral student Sejin Keem from the Georgia Institute of Technology more precisely showed that the possibility of isolating oneself (in a meeting room, on a sofa, etc.) contributes general employee motivation.
Companies also have every interest in investing in comfortable desks and office chairs because these play a major role in the well-being of employees and their ability to be creative. In his study " Encouraging Creativity in the Workplace Through the Physical Environment: Focusing of the Office Workstation ", researcher Dale R. Landry showed that having a workstation whose height can be adjusted and whose chair is flexible and ergonomics positively influences the quality of life at work and the creativity of employees.
On the other hand, cubicles , or the fact of separating employees by palisades, reduces their creativity: by reducing visible access to others from their workstation, separations reduce the potential for collaboration which can lead to creativity. The researcher also found that being able to hang notes, samples, photos, sketches, etc. on a panel near his workstation was a factor encouraging the spirit of innovation.
Blue and green, the two most abundant colors on earth, facilitate creativity
The decoration is not left out since certain soothing and inspiring colors can boost creativity. According to an experiment from the University of British Columbia ( Blue or Red? Exploring the Effect of Color on Cognitive Task Performances , Ravi Mehta, Rui (Juliet) Zhu), blue is, for example, the ideal color for the work environments of creative because it promotes communication, trust and efficiency. As blue is naturally soothing, it is more generally suitable for work spaces as it opens the mind to new ideas.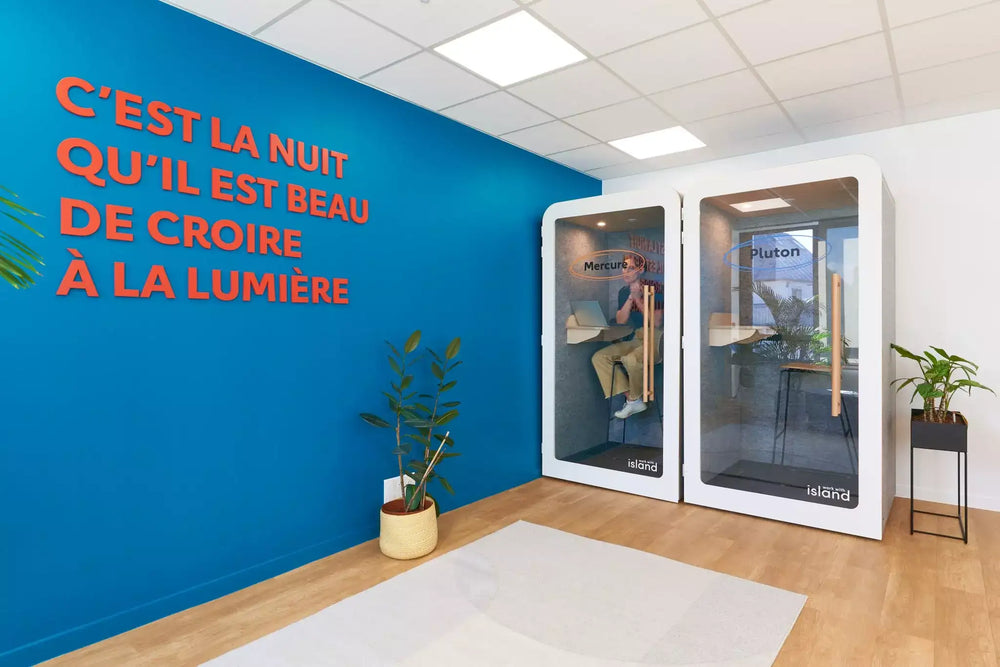 Blue is a color conducive to creativity.
Photo credit: Deskeo
Green is another performance-enhancing color for creatives. The second most abundant color on the planet after blue, this low-wavelength pigment promotes harmony and balance, which can spur innovation, according to a study conducted by the University of Munich ( Fertile Green : Green Facilitates Creative Performance , Stephanie Lichtenfeld, Andrew J. Elliot, Markus A. Maier). Stephanie Lichtenfeld, head of the research team, said that this natural color "has implications that go beyond aesthetics" and that just seeing green could trigger "the type of processing (mental ) pure and open necessary for successful creative tasks".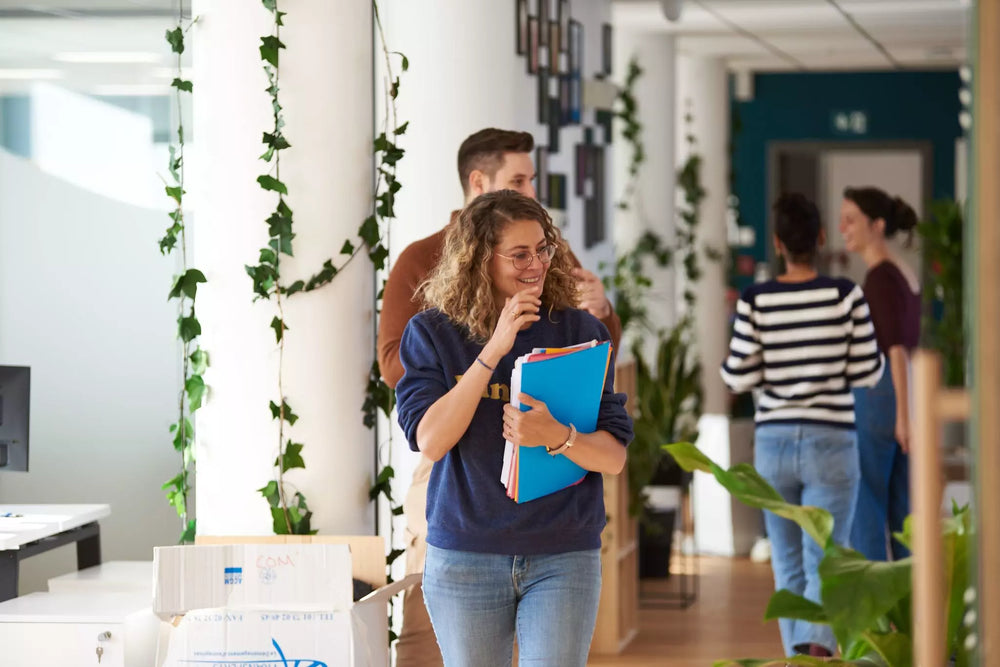 Photo credit: Deskeo
It is therefore not surprising that the presence of plants contributes to creativity. A study designed by the University of Exeter's Identity Realization research group, in association with Indoor Garden Design, compared the actual performance of people in different types of workspaces across 90 experiments involving a total of 350 participants. . The results showed that making decisions in a workspace with office plants can increase well-being by 47%, creativity by 45% and productivity by 38%.
The presence of green plants in workspaces helps to make teams more creative.
Companies have every interest in monitoring the temperature and noise in their workspaces
The temperature can also promote team creativity by contributing to their well-being. Researchers at Cornell University conducted a study that involved setting the thermostat in an insurance office to different temperatures. When temperatures were low (20 degrees), employees made 44% more errors and were half as productive as when the temperature was hot (25 degrees).
As for the noise, it is also a question of finding a happy medium. According to the study Is Noise Always Bad? Exploring the Effects of Ambient Noise on Creative Cognition , researchers Ravi Mehta, Rui (Juliet) Zhu and Amar Cheema, showed that a moderate level of ambient noise (70 dB) compared to a low level (50 dB) improves performance in creative tasks but that a high noise level (85 dB) on the other hand is detrimental to creativity. Although counter-intuitive, their results did indeed reveal that a level of 70 decibels increases processing difficulty, inducing a higher level of design and thus enabling abstraction processing, which then leads to greater creativity. Hence the need to consider the use of acoustic furniture that absorbs excessive noise.
Encouraging the creativity of its teams therefore involves becoming aware that a multitude of socio-organizational and environmental factors contribute to the spirit of innovation. Consequently, because no factor has a predetermining role but all contribute jointly to the well-being of employees, conducting a company policy centered on innovation amounts to engaging in a policy centered on the quality of life at work. .