How to make the space of a coworking pleasant to live in to prevent users from turning back? Find out how the Cap Luberon teams managed to increase customer retention and win the loyalty of new ones.
Can you introduce yourself ?
I am Julia Guasp, animator of Cap Luberon since its opening in June 2020. I have a triple hat of management, animation and communication of this place. This allows me to have an overview and to best meet the needs of users.
Cap Luberon is a business services center of the community of Communes Pays d'Apt Luberon. Located in Provence, at the foot of the Luberon, our space offers a wide range of services for businesses. Structure of accommodation, accompaniment and animation, Cap Luberon offers flexible solutions and adapted to the needs of those and those who push the doors. Our goal is to best meet the ambition and wishes that are theirs: set up, develop and be advised.
Explain to us how the layout of your workspaces was thought out?
Cap Luberon is a building designed by companies, for companies! Indeed, the business services center offers rental of activity workshops, three meeting rooms, thirteen private offices and a coworking space.
Spread over more than 900m2, we have also fitted out friendly spaces: kitchen, relaxation areas and a garden. These areas have been designed to encourage meetings and exchanges between workers.
What was the intention behind this layout choice?
The Pays d'apt Luberon has few land reserves. By creating such a space, we wanted to offer companies a place to pool spaces, meeting rooms and offices so that they can free up space in their structure.
What were the problems with your layout?
Our 150m2 open space is equipped with acoustic walls, however, faced with the heavy use of the space and the increase in videoconference meetings, we encountered sound problems.
A real concern for us! Noise pollution was becoming a real obstacle for many potential users who were becoming reluctant to sign up for a coworking contract. We also had some tenants who reduced their working hours in our space. In the long term, this was going to have a significant financial impact.
Why did you choose acoustic cabins among all the solutions on the market?
We chose the acoustic cabins because the noise pollution was, as I said before, the main problem.
We chose that of Work With Island for several reasons: its size, its equipment and its design which blends perfectly into our workspace.
How have Island booths helped improve your workspaces?
The Island cabins have made it possible to improve the comfort of our users, and therefore to attract new workers. These are regularly used throughout the day.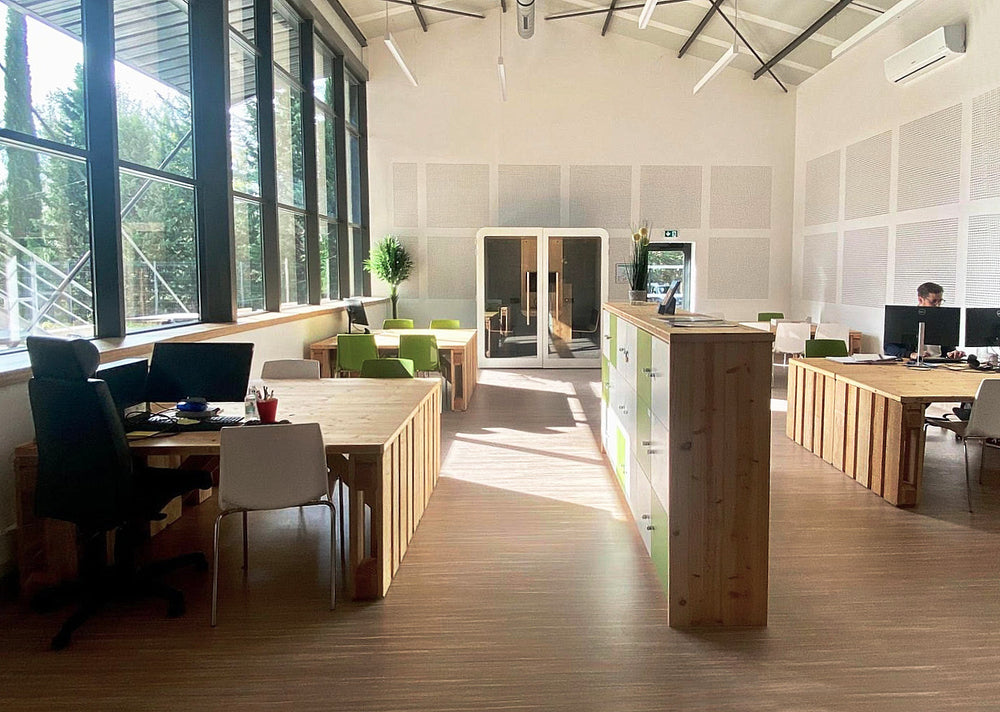 What are the cabins used for?
In our space, the soundproof cabins are used for telephone exchanges, videoconference meetings but also to exchange with customers remotely thanks to the integrated screen.
Who would you recommend Island Cabins to?
We would recommend the cabins to all structures equipped with coworking spaces. Working methods are changing and spaces such as ours must adapt to new uses. Equipping ourselves with acoustic cabins makes it possible to offer an additional service and improve the comfort of our users.