According to a recent study, a QVT approach could reduce absenteeism at work by 25%. An important figure on the profitability of a company. This is why more and more of them are resorting to different means, including the acquisition of acoustic cabins , to improve the daily lives of employees. Indeed, acoustic furniture proves to be one of the solutions for creating a calm and productive work environment.
In this article, discover our 10 ideas for improving the quality of life at work for your employees in order to enhance their fulfillment and improve their performance.
Why should you invest in employee wellbeing?
Many companies tend to believe in overinvesting in things and underinvesting in people. However, investing in people and the well-being of its employees is more than profitable.
The idea is not new. Some Victorian-era industrialists, such as William Lever, believed that investing in workplace well-being was both a performance driver and a moral imperative that improved work efficiency.
But what are the convincing arguments for investing in well-being at work and employee development? What benefits can you expect?
The poor quality of work organization would cost companies 13,500 euros per year and per employee. In addition, the disorganization of work would lead to a deterioration in the socio-economic performance of French companies by 27%. © Les Echos
Organizations whose staff experience happiness at work and feel valued by the company are much less likely to experience absenteeism issues.
A study by Wright and Bonett found that managers with low levels of workplace well-being were more likely to quit their jobs. This assumes that investments in the management of well-being at work can reduce the turnover rate.
In this way, you will limit the costs relating to recruitment and training. But also intangible costs, such as the loss of tacit knowledge in interpersonal networks.
Companies can expect a potential return of 2.20 euros, for each euro invested in well-being at work, per year and per employee. ©APICIL
On the other hand, the digital age requires that the lack of well-being and dissatisfaction at work ends up filtering through sites such as Glassdoor. A growing number of job seekers consult these sites before applying for a job. Not investing in well-being at work can therefore have an impact on your employer brand and on the quantity/quality of future applications.
With so many wellness-focused initiatives and tools, this process can quickly become overwhelming. To see more clearly, we offer you this graphic which summarizes the benefits related to well-being that matter to employees: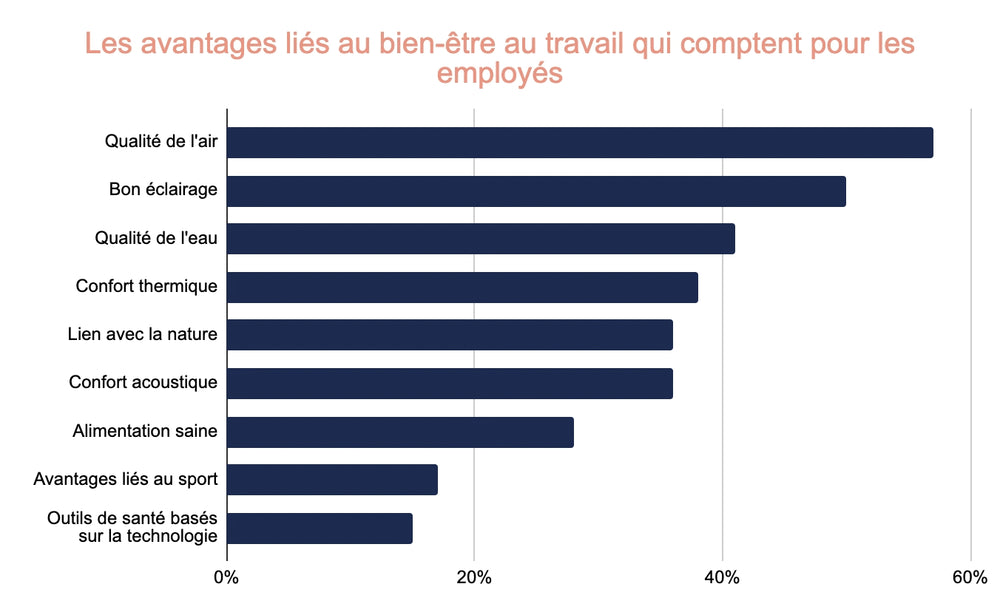 ©TestGorilla
In the following, we will offer you 10 effective ideas to promote the well-being of your employees and prevent them from burnout .
Idea #1: Choose flexible working hours
Startups and other young companies have already understood this principle. If your employee's role does not depend on a specific time slot during the day, why force him to work at fixed hours?
And if your employees have to take care of children, share a vehicle or schedule university courses, offer flexible working hours.
Relieve some of your team's daily stress and focus on employee well-being by allowing flexible working hours when appropriate. Allowing an employee to shift their schedule by just one hour is a show of trust that can make all the difference. You can even consider offering the choice of a four-day work week.
UK companies that piloted the four-day week for six months are now considering making it permanent, after calling the experiment "hugely successful". ©Euronews
Idea #2: Ensure acoustic comfort for your employees
Good acoustics in the workplace is not only essential for the health of employees. It is also used to support new work styles based on communication, improve the quality of life at work and strengthen team spirit. Acoustic comfort in the workspace is one of the factors that most affects the well-being and performance of employees. Any assessment of noise exposure in offices should begin with knowing the degree of annoyance expressed by office workers and identifying the source of the noise.
In general, in the work space, four sources of noise can be considered: that coming from outside, that of the building's installations, that of office equipment and that produced by people.
But then, how to obtain acoustic comfort in offices? Conversations are the main nuisance. In offices, it is possible to guarantee the reduction of noise from adjacent areas by soundproofing the premises.
In an open space , this can be done by acoustic treatment of the ceiling and the installation of soundproof cabins . Acoustic booths create a dedicated micro environment that eliminates distractions and increases productivity and performance.
Idea #3: Make sure employees have ergonomic desks
Managing workspace ergonomics has become an important area of ​​concern for organizations. Indeed, employees face the occupational hazards of sitting at a desk and working on a computer all day. Good ergonomics is about how a worker sits and rests their arms and hands. It also relates to the viewing angle of the computer screen and the position of the feet under the desk.
With the rise of remote working and the focus on digital accessibility, companies can see ergonomic equipment as an opportunity to improve their employee experience. Ergonomic technologies provide a more personalized work experience because employees can use what works best for them.
Here are two factors to consider when choosing ergonomic technology:
1. Ease of use. Employees must be able to configure and understand their ergonomic equipment without difficulty.
2. Individual adjustment. Since people are physically different, the ergonomic needs of a taller man will not be the same as those of a shorter woman. The equipment must adapt to all users.
Idea #4: Encourage your employees to have a healthy diet
The lack of breaks and a healthy diet can have a disastrous effect on the health of your employees. Experts consider it important to take breaks, follow a nutritious diet and exercise to stay fit and healthy. A nutritious diet and sufficient rest will allow your employees to perform their tasks with renewed energy. In this sense, here are some actions that a manager can put in place:
1. Install a filtering water fountain: Water is an essential element that the body needs to control temperature, digest food and regulate blood circulation.
2. Plan to share time around a collective breakfast: You can include foods rich in complex carbohydrates such as cereals, vegetables and fruits. These events boost employee morale and allow you to enjoy a delicious breakfast in a fun and relaxed work environment.
3. Unlimited fresh fruit: Making fruit available to your employees has immense benefits for their physical and mental health. Fruit is naturally low in cholesterol and contains plenty of fiber and essential nutrients such as folate, vitamin C and potassium. This is important to keep your employees performing well.
Idea #5: Celebrate employee successes
Achieving company goals, big or small, should be cause for celebration. When your team works towards achieving a common activity but receives little or no recognition once the goal is achieved, their commitment and trust naturally takes a negative turn. Worse, they may not be as motivated on the next task or project.
Take time to celebrate your team's successes. Show your employees that you care about them and appreciate their work. This can be through travel, office party outings, or even a simple mention in the monthly newsletter. Don't forget to share your team's successes outside of your company. If you are proud of your team, take the time to let it know with a press release or a post on social networks.
Idea #6: Organize charity events and encourage volunteering
Fostering an environment of community engagement can transform your company culture. Volunteering strengthens team cohesion and allows employees to feel good. If your employees have the opportunity to work for a cause that is close to their hearts, you will have a happier and more balanced team. Find out about the various organizations and social partners in your area and work with them to set up a volunteer activity for your team.
Idea #7: Set up a profit-sharing system
A profit-sharing plan, also known as a "deferred profit-sharing plan", gives employees a share of the company's profits based on the company's earnings.
Employee profit sharing plans is one solution that has distinct benefits and helps improve morale and results. As a compensation incentive, profit sharing is directly linked to performance-related bonuses and rewards. This results in a considerable increase in labor productivity, cohesion, healthy competition between employees and the motivation of the latter to give the best of themselves.
Investing in a profit-sharing scheme can produce many benefits for your business, both for overall performance and for keeping your staff motivated and engaged.
Idea #8: Accompaniment and support for parents
Parents who work in companies face unique challenges, especially in the age of digital and remote working. Help your staff find a better work-life balance. Employees who have a happy family life are naturally more committed and motivated to provide better quality work. You may also consider starting a resource group for working parents.
Idea #9: Support diversity and inclusion
Diversity, equity and inclusion go hand in hand. To experience real organizational change, companies must create an inclusive work culture. More concretely, this means extending initiatives beyond the hiring process and providing equal opportunity and treatment to all employees.
Diversity is a measure of difference in identity (gender, ethnicity, age, sexual orientation, ability or religion). ©Ceridian
Inclusion is the respect and appreciation of these differences – the deliberate act of welcoming and valuing diversity and equity. Here are some ways to promote diversity, equity and inclusion in the workplace:


Become aware of unconscious biases.


Communicate the importance of managing these biases in your business.


Promote pay equity.


Strengthen the sense of belonging through team building activities (table football, ping pong, yoga classes, seminars, etc.)


Develop a strategic training program.


Recognize the holidays of all cultures.


Make it easy for every employee to participate in resource groups.


Mix up your teams.


Idea #10: Ensure the proper training of your employees
An employee training and development program allows you to strengthen the skills of your staff and develop the knowledge they lack.
This type of program will allow all of your staff to reach a common level of skills. By providing ongoing training to your employees, you'll allow them to pick up where someone else left off, helping them stay on the same page without having to provide constant help and supervision. Continuing education can be considered the best insurance policy against all sorts of unforeseen changes and needs.
Incorporating employee well-being into your business is about more than "having fun in the office". It's about managing the needs of your employees holistically so they have all the tools to do a great job. If you do it right, you can improve the confidence and productivity of your employees and thus ensure the satisfaction of your customers and the good management of your budgets.